Yogalates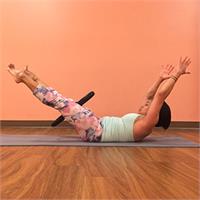 Level: Advanced Beginner/Intermediate
Temperature: 95 degrees F
Description:Two worlds collide in one class. Yogalates is a great combination of yoga and pilates to achieve a tremendous amount of core strengthening. Students will experience yoga's incredible ability to warm up the body and enhance flexibility, which ultimately supports the mental and physical alignment required in all of the mat pilates exercises. These two disciplines go hand in hand as the benefits of each art feed into the other. The importance of yoga alignment combined with pilates' core strengthening exercises makes for a challenging yet worthwhile experience. This class is appropriate for intermediate level students.
It is recommended that pregnant mothers in their 2nd and 3rd trimester do not take this class as there is a fair amount of ab work.
Upcoming classes: