Acro Yoga Level 1
This class is taught by: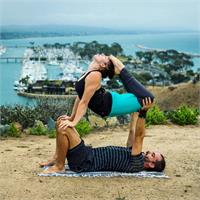 Bio:Morgan has been passionate about movement since she could walk. From dance and competitive gymnastics, she quickly realized that the way in which people understand and experience the mechanics of movement cannot be crammed into a "one size fits all" teaching philosophy. This realization has informed her belief in the importance of teaching to each individual, not just to a class en masse. Morgan discovered AcroYoga (acrobatic partner yoga) through her experience as a gymnast and aerial instructor and fell in love with the fun, community-based practice in 2009.
Morgan currently teaches a variety of movement activities including rock climbing, aerial silks, lyra, and AcroYoga. After working in so many disciplines, Morgan strongly believes in adapting classes and teaching styles to meet the varying needs of students from all backgrounds and experiences. Blending together the mindfulness and energy of yoga and acrobatics, AcroYoga ensures that we don't forget the value of play in our practice!
Teaching Style: I love working with new students and breaking down the mechanics of movement.
3 things I would put in a time capsule: 1) my overflowing bookshelves 2) brightly colored yoga pants 3) an aerial hammock
Find me: Instagram @kaleidoscopique
Bio: Avid Acroyogi and slackliner. I love to teach, play, and learn. I have been teaching AcroYoga for about a year now and have enjoyed every bit of it. On the constant path of learning and expanding my talents. I also enjoy backpacking and reading at the local coffee shops.
Teaching Style: Very much a demonstrator, I prefer to show the skill we are learning then help guide/coach the students to develop the skill.
3 things I would put in a time capsule: Slackline; Wine; Survival Knife
Find Me: Facebook @Cody.Shellenberger & Instagram @acroyogicody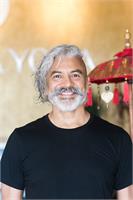 Bio: Ardent Yoga & Pilates student & instructor, meditator, and Acroyogi. Grateful for the life-transforming qualities of the practice yoga postures, Pilates exercises, meditation and acroyoga sessions.
Teaching style: For Yoga - emphasis on breath to connect inwardly and become present; for Pilates - emphasis on breath to facilitate centering, concentration, control, flow, and precision; for Acroyoga - emphasis on fun, and safety (through appropriate spotting).
3 things I would put in a time capsule: A copy of each of the following books - Light On Yoga, Pilates' Return to Life Through Contrology, and The Power of Now
Find Me: iamyogiray@gmail.com
Level: Beginner
Temperature: Room Temperature
Description: Acro Yoga is a dynamic class that combines the art of Acrobatics, Yoga and Thai Massage. The beauty of this class relies upon community, cooperation, communication, and care amongst participants. Students work together in yoga poses which makes this class unique. Additionally, using another person's body weight in various postures helps increase flexibility and strength. The Acro Yoga practice can be great way to foster relationship building, however, you do not need to have a partner to attend this class as we will all work together.
Acro Yoga Leve 1 is for anyone looking to get introduced to Acro Yoga and work on some of the more basic poses ad concepts. This class will still challenge you and help you grow in the practice. You will be working primarily in groups of three with a base, flyer, and spotter, all three are very important roles. Come with a playful attitude, prepare to laugh and have a great time!