Acro Yoga Level 1
This class is taught by: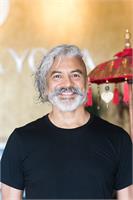 Bio: Ardent Yoga & Pilates student & instructor, meditator, and Acroyogi. Grateful for the life-transforming qualities of the practice yoga postures, Pilates exercises, meditation and acroyoga sessions.
Teaching style: For Yoga - emphasis on breath to connect inwardly and become present; for Pilates - emphasis on breath to facilitate centering, concentration, control, flow, and precision; for Acroyoga - emphasis on fun, and safety (through appropriate spotting).
3 things I would put in a time capsule: A copy of each of the following books - Light On Yoga, Pilates' Return to Life Through Contrology, and The Power of Now
Find Me: iamyogiray@gmail.com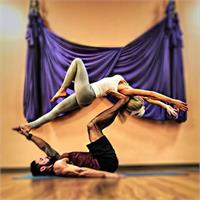 Level: Beginner
Temperature: Room Temperature
Description: Acro Yoga is a dynamic class that combines the art of Acrobatics, Yoga and Thai Massage. The beauty of this class relies upon community, cooperation, communication, and care amongst participants. Students work together in yoga poses which makes this class unique. Additionally, using another person's body weight in various postures helps increase flexibility and strength. The Acro Yoga practice can be great way to foster relationship building, however, you do not need to have a partner to attend this class as we will all work together.
Acro Yoga Leve 1 is for anyone looking to get introduced to Acro Yoga and work on some of the more basic poses ad concepts. This class will still challenge you and help you grow in the practice. You will be working primarily in groups of three with a base, flyer, and spotter, all three are very important roles. Come with a playful attitude, prepare to laugh and have a great time!
Upcoming classes:
UPCOMING CLASSES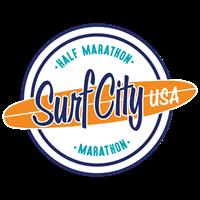 Spectra Run Club: Surf City Training

with

Kevin

Mullen
Next held on Sun, Dec 16, 2018 at 7:00 am - 8:00 am
This
enrollment
runs from Sun Nov 4, 2018 - Sun Jan 27, 2019
Learn More
Online registration is closed. Please contact us for details.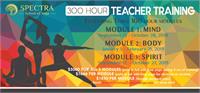 300 Hr: BODY Module
More About This Course
300 Hr Teacher Training: BODY

with

Melissa

Christensen
Next held on Sun, Jan 6, 2019 at 9:00 am - 6:00 pm
This
enrollment
runs from Sun Jan 6, 2019 - Sun Feb 24, 2019
300 Hr Teacher Training: BODY

with

Aileen

Pham
Next held on Thu, Jan 10, 2019 at 5:30 pm - 9:30 pm
This
enrollment
runs from Thu Jan 10, 2019 - Thu Feb 21, 2019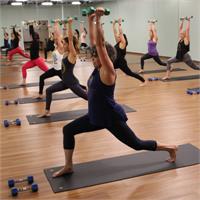 Yoga Lift Teacher Training
More About This Course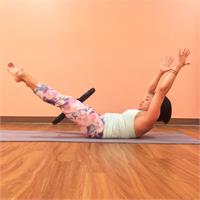 Yogalates Teacher Training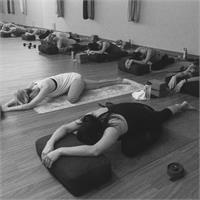 Yin Yoga Teacher Training
More About This Course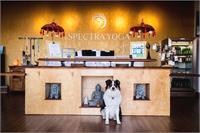 200 Hour Yoga Teacher Training
More About This Course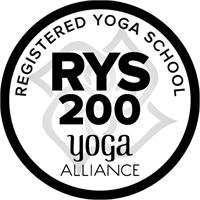 200 Hour Yoga Teacher Training

with

Aileen

Pham
Next held on Thu, Feb 28, 2019 at 6:30 pm - 9:30 pm
This
enrollment
runs from Thu Feb 28, 2019 - Thu May 23, 2019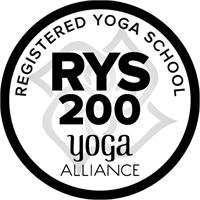 200 Hour Yoga Teacher Training

with

DJ

Arnold
Next held on Fri, Mar 1, 2019 at 5:30 pm - 9:30 pm
This
enrollment
runs from Fri Mar 1, 2019 - Fri May 24, 2019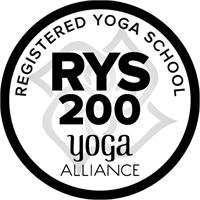 200 Hour Yoga Teacher Training

with

Melissa

Christensen
Next held on Sun, Mar 3, 2019 at 9:00 am - 5:00 pm
This
enrollment
runs from Sun Mar 3, 2019 - Sun May 19, 2019