Aerial Yoga* (register 4hrs before)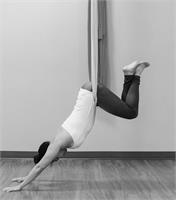 *This class is not included in the monthly membership. Additional cost required to take this class.
Level: All levels
Temperature: Room Temperature
Description: Aerial Yoga is a unique experience of yoga asana practiced on the mat combined with asanas practiced in a suspended hammock. Using the aid of gravity, the hammock is an effective tool for realignment of the body as it acts like a hands on adjustment. The way in which the hammock guides the body into better alignment is greatly useful when translating the poses to the mat. The hammock is suspended about waist height off the ground and the instructor will guide students in and out of the hammock mindfully and safely. Aerial Yoga is intended to assist students to relax their mind and body, release tension, and rebuild proper alignment.
No jewelry, no zippers, wear clothing that protects armpits and knees.
Upcoming classes:
Sign Up

Thu

Aug 24 6:15 pm - 7:15 pm

with

Sheila

Mann




Sign Up

Mon

Aug 28 6:45 pm - 7:45 pm

with

Kylie

Swenson




Sign Up

Tue

Aug 29 7:15 pm - 8:15 pm

with

Kylie

Swenson




Sign Up

Thu

Aug 31 6:15 pm - 7:15 pm

with

Michaela

Drageset




Sign Up

Tue

Sep 05 7:15 pm - 8:15 pm

with

Michaela

Drageset




Thu

Sep 07 6:15 pm - 7:15 pm

with

Michaela

Drageset




Mon

Sep 11 6:45 pm - 7:45 pm

with

Michaela

Drageset




Tue

Sep 12 7:15 pm - 8:15 pm

with

Karen

Clark




Thu

Sep 14 6:15 pm - 7:15 pm

with

Karen

Clark




Mon

Sep 18 6:45 pm - 7:45 pm

with

Michaela

Drageset




Tue

Sep 19 7:15 pm - 8:15 pm

with

Karen

Clark




Thu

Sep 21 6:15 pm - 7:15 pm

with

Karen

Clark




Mon

Sep 25 6:45 pm - 7:45 pm

with

Michaela

Drageset




Tue

Sep 26 7:15 pm - 8:15 pm

with

Karen

Clark




Thu

Sep 28 6:15 pm - 7:15 pm

with

Karen

Clark




Mon

Oct 02 6:45 pm - 7:45 pm

with

Michaela

Drageset




Tue

Oct 03 7:15 pm - 8:15 pm

with

Karen

Clark




Thu

Oct 05 6:15 pm - 7:15 pm

with

Karen

Clark




Mon

Oct 09 6:45 pm - 7:45 pm

with

Michaela

Drageset