Full Body Fitness
This class is taught by: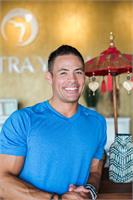 Bio: Eric grew up in Southern California playing soccer, baseball, and doing martial arts. After discovering weightlifting, he decided to turn his passion into a career in health and fitness as a personal trainer and instructing boot camp classes. He also holds certifications in Animal Flow and Kettlebells, and enjoys incorporating those movements into his training routines. When he isn't at the gym, Eric enjoys hiking, wine tasting, ice cream tasting, and listening to country music.
Teaching Style: High energy, friendly, motivational
3 Things I Would Put in a Time Capsule: Coffee, new shoes, family pictures
Find Me: Instagram @hapa_warrior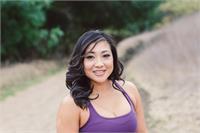 Bio: In the early summer of 2003, Aileen began her Hot Yoga practice after strong recommendations by her Aunt Ann. Initially her yoga practice was intended as a solution for the infamous "Freshman 10" she gained at the University of Southern California. Yet soon thereafter through an intense and dedicated practice, the fat shed and Aileen discovered that yoga's benefits offered much more than losing weight. Since childhood, Aileen suffered from acute eczema, asthma, and allergies. In fact, the allergies were quite severe and she resorted to allergen immunotherapy. Enduring the allergy shot regimen for six years, she finally stopped after developing an on going yoga practice. She soon noticed that her allergy, asthma, and eczema symptoms were beginning to slowly disappear a year later. Additionally, as an athlete with a background in tennis, swimming, and track & field, Aileen discovered a great alternative to intensive sports in Hot Yoga. Aileen soon found that Hot Yoga not only increased her flexibility, but also relieved stress, increased energy, improved balance, and developed acute body awareness and concentration. Yoga proved to be extremely complementary to her workouts outside the yoga studio.Aileen completed two 200 hour yoga teacher training with Yoga Works in 2007 and with Corepower Yoga in 2008. In 2010, she completed her 500 hour yoga therapy training. She also studied to become a personal trainer in 2007 and has taken multiple workshops to continue her education especially in the area of Acro Yoga, Kids Yoga, Pre-natal, and Aerial. Coupling her knowledge of different types of yoga and personal fitness helps her to become a better yoga instructor and therapist. Her love for the practice has inspired her to teach and help others live a healthier and balanced life.
Teaching Style: I teach with a lot of enthusiasm and energy as I love to motivate and support my students. No matter what style of class I am teaching, I want my students to let go and rely that I will guide them safely through an encouraging and fun class. My goal is to uplift my students' minds and bodies to face new challenges and conquer old ones all the while staying present to enjoy each moment of class.
3 Things I would put in a time capsule: Hanson's 1997 debut album "Middle of Nowhere," photo album of vacations with friends and family, and one of my paintings
Find Me: Instagram @aileenpham and @spectrayoga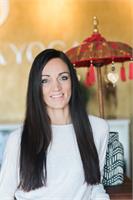 Bio: TaNesha began dabbling in yoga over ten years ago. After attempting various methods for dealing with unmanageable anxiety, TaNesha took yoga much more seriously, and found it vastly improved her state. She began to regularly study and practice daily until teacher training seemed inevitable. She received her 200 hour yoga certification 5 years ago through Core Power Yoga. She has taught all around California, including in Orange County, Palm Springs, and Fresno. She has had the pleasure of teaching in various environments to a wide range of students, from rehab facilities to elementary schools, and from veterans to professional athletes. She is currently working on her Masters in Psychology and completing her 500 hour teacher training with a dream of developing a therapy practice wherein which yoga for trauma has a significant place.
Teaching Style: Honest and Purposeful
3 things I would put in a time capsule: 1) a wedding photo 2) dogs' tags 3) family photo(s)
Find Me: Facebook @tanesha.dodson.1
Instagram @sweetteezleberry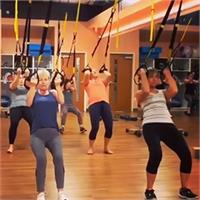 Level: All levels
Temperature: Room Temperature
Description: Highly trained instructors will teach to each students level and ability in class, which makes this full body fitness class a great experience for any level student. This class will use a multitude of equipment such as dumbbells, resistance bands, slam balls, and jump ropes, but most importantly the TRX. Originating from the Navy Seals, TRX Suspension Training is the latest and greatest in strength and endurance training. Students will use their body weight combined with the suspension straps to utilize every muscle in their body.
The main focus in this class is centered on core stabilization to gain strength, definition, better posture, and endurance to name a few. Each day you will get a 45 minute full body workout, with a higher emphasis on one body part depending on which day of the week it is. You can find the Full Body Fitness schedule in the monthly newsletter.
This class is practiced in a cool room and outside. It will require a yoga mat, tennis shoes, comfortable athletic wear, and water.
Upcoming classes: