Full Body Fitness
This class is taught by: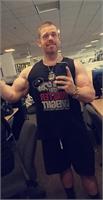 Bio: Jacob has always excelled in sports and has ways enjoyed helping and motivating others. As of recently he decided to turn that into a career and become a personal trainer to help impact and motivate a wider range of people. Training has always been his passion as well as teaching groups and classes. When not in the gym Jacob is out hiking, discovering new trendy food spots, or at home studying/working on continued education in the fitness industry.
Teaching style: high energy, motivational, and fun.
3 things I would put in a time capsule: pre workout, gummy bears, and scrapbook.
Find me: Instagram @cunnea_performance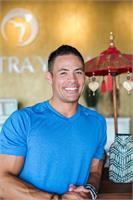 Bio: Eric grew up in Southern California playing soccer, baseball, and doing martial arts. After discovering weightlifting, he decided to turn his passion into a career in health and fitness as a personal trainer and instructing boot camp classes. He also holds certifications in Animal Flow and Kettlebells, and enjoys incorporating those movements into his training routines. When he isn't at the gym, Eric enjoys hiking, wine tasting, ice cream tasting, and listening to country music.
Teaching Style: High energy, friendly, motivational
3 Things I Would Put in a Time Capsule: Coffee, new shoes, family pictures
Find Me: Instagram @hapa_warrior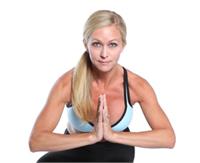 Bio: I teach yoga because I believe in it's ability to heal our minds and bodies after experiencing it for myself. Prior to trying yoga I had a regular fitness routine that included ballet dancing, Pilates, aerobic classes and light strength training. Even though I was active I found myself spending a lot of time visiting my massage therapist and chiropractor to repair imbalances in my physiology. I began looking for a more effective way to restore harmony in my body and tried my first yoga class at age 40. I started noticing improvements in my flexibility and functionality with yoga. Shortly after I began a regular yoga practice I had some difficult life events that really tested my emotional wellness too. I craved the peace that I found each time I went to yoga, and found it was helping my mind as much as my body. That grew into a real love for it and a spark to share my love with others by becoming a certified instructor.
I teach Hatha / Vinyasa yoga and Aerial Yoga. I love the lighthearted fun of the hammock classes and discovering new ways of using the hammock for strengthening, stretching, restoring and translating yoga poses in new dimensions.
Teaching Style: Encouraging, friendly, educational. I am very focused on teaching alignment and breath so my students find stability and space in their postures first, and then start exploring strength and depth of the pose.
3 things I would put in a time capsule: Lip gloss, yoga mat, cozy sweater & sweat pants

Find Me: FB @Karen Clark Yoga
IG @liftedspirits_yoga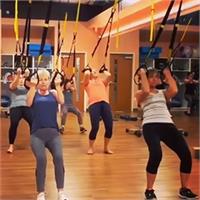 Level: All levels
Temperature: Room Temperature
Description: Highly trained instructors will teach to each students level and ability in class, which makes this full body fitness class a great experience for any level student. This class will use a multitude of equipment such as dumbbells, resistance bands, BOSU balls, and jump ropes, but most importantly the TRX. The TRX Suspension Training Strap, developed by a Navy Seal, is the latest and greatest in strength and endurance training. Students will use their body weight combined with the suspension straps to utilize every muscle in their body.
The main focus in this class is centered on core stabilization to gain strength, definition, better posture, and endurance to name a few. Each day you will get a 45 minute full body workout, with a higher emphasis on one body part depending on which day of the week it is. You can find the Full Body Fitness schedule in the monthly newsletter.
This class is practiced in a cool room and outside. It will require a yoga mat, tennis shoes, comfortable athletic wear, and water.
Upcoming classes: