Full Body Fitness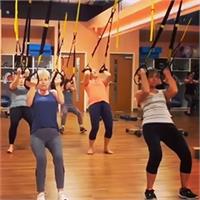 Level: All levels
Temperature: Room Temperature
Description: Highly trained instructors will teach to each students level and ability in class, which makes this full body fitness class a great experience for any level student. This class will use a multitude of equipment such as dumbbells, resistance bands, slam balls, and jump ropes, but most importantly the TRX. Originating from the Navy Seals, TRX Suspension Training is the latest and greatest in strength and endurance training. Students will use their body weight combined with the suspension straps to utilize every muscle in their body.
The main focus in this class is centered on core stabilization to gain strength, definition, better posture, and endurance to name a few. Each day you will get a 45 minute full body workout, with a higher emphasis on one body part depending on which day of the week it is. You can find the Full Body Fitness schedule in the monthly newsletter.
This class is practiced in a cool room and outside. It will require a yoga mat, tennis shoes, comfortable athletic wear, and water.
Upcoming classes: