Roll & Restore with Yoga Tune Up Balls
This class is taught by: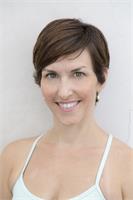 Bio: My love for health and well-being was sparked while taking prenatal yoga classes during my pregnancy with my first son. After a career in marketing and sales, I decided to re-enter the working world, and turned my passion for mind-body movement into a career. First, I completed my AFAA Personal Training Certification and 24 Hour Group Fitness Instructor Certification. While teaching group classes, I realized the importance of teaching others how to move intelligently. I decided to pursue my Pilates certification through STOTT PILATES® Reformer Certification and Power Pilates Comprehensive Certification. Returning to my yoga roots, I became a 500 ERYT, but my true calling as a teacher came during when I was introduced to Yoga Tune Up®. Blending my passion for alignment and concentration with a splash of fun. Continuing to further my education, I am an Integrated Yoga Tune Up® Teacher Trainer. I found my tribe!
I believe my growth as a teacher is to always remain a student. I continue my education through conferences and workshops with master teachers from around the country. I, also, have the privilege of teaching teachers through trainings, workshops and recently helped launch a new self-care program with 24 Hour Fitness nationwide.
Teaching Style: Through alignment, breath & movement, I strive to teach students the tools to embody their own unique body map from inside out.
3 things I would put in a time capsule: coffee beans, Yoga Tune Up® Therapy Balls, picture of my family
Find Me: www.movementreform.com
Level: All Levels
Temperature: Room Temperature
Description: Roll & Restore is an all level class from the beginner yogi to the most seasoned Vinyasa practitioner. Using The Roll Model® Method Therapy Balls and gentle movements you will uncover your body's blindspots. This class will put the power in your hands to improve your performance, eradicate pain, and maintain your posture. It is the perfect mid-week recovery class to add to your schedule. Class therapy balls will be provided for class use.