Mom + Baby Yoga (Registration is Required)
This class is taught by: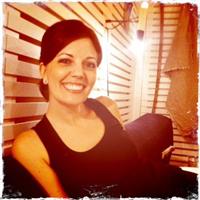 Liza's love for yoga has been a journey off and on for over 13 years. It wasn't until her second pregnancy that this love became a passion. She started a regular practice realizing the many benefits on her continuously changing body as well as appreciating the deeper connection with her growing baby. She attributes a very fast and fearless second homebirth to everything she learned in her prenatal yoga classes. It was in her "mom and baby," classes that she was inspired to attend Spectra School of Yoga Teacher Training in 2016. Following her passion of working with pregnant mothers and wanting to pass on the gifts she was given during this magical time of life, Liza specializes in pre and postnatal yoga. Her classes are focused on creating both physical and mental strength for mothers. Her background is in massage therapy, which gives her a unique understanding of the human body both physically and energetically.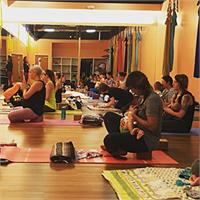 Register/Sign up/Pay at
SIGN UP ONLINE AND YOUR FIRST CLASS IS FREE!
Level: All levels
Temperature: Room Temperature
Description: Mom + Baby Yoga is a class dedicated to parents and their newborn baby. Mothers are invited to come and experience a unique bonding experience with the new child in their lives. For the mother, this class greatly assists her to get back into her body and to start reintegrating core strength again. We also focus on allowing things to be a little hectic (babies crying, crawling, & feeding), while staying connected to breath. This is an amazing opportunity to introduce your baby to yoga, but also for parents to get out of the house, use your muscles, and meet other conscious parents to create a community of support and loving fun. Mom + Baby Yoga is appropriate for moms as soon as she is cleared for exercise by her care provider (usually 6-8 weeks postpartum) and is best for babies who are not yet on the move (if your baby just started crawling come try it out and see how it goes! Your first MA yoga class is free).
Spectra Yoga is the host site for this class and does not take responsibility for registration or payment. Please visit
to sign up and pay for these classes.
Upcoming classes:
Thu

Oct 18 11:30 am - 12:30 pm

with

Liza

Esayian




Thu

Oct 25 11:30 am - 12:30 pm

with

Liza

Esayian




Thu

Nov 01 11:30 am - 12:30 pm

with

Liza

Esayian




Thu

Nov 08 11:30 am - 12:30 pm

with

Liza

Esayian




Thu

Nov 15 11:30 am - 12:30 pm

with

Liza

Esayian




Thu

Nov 29 11:30 am - 12:30 pm

with

Liza

Esayian




Thu

Dec 06 11:30 am - 12:30 pm

with

Liza

Esayian




Thu

Dec 13 11:30 am - 12:30 pm

with

Liza

Esayian




Thu

Dec 20 11:30 am - 12:30 pm

with

Liza

Esayian




Thu

Dec 27 11:30 am - 12:30 pm

with

Liza

Esayian




Thu

Jan 03 11:30 am - 12:30 pm

with

Liza

Esayian




Thu

Jan 10 11:30 am - 12:30 pm

with

Liza

Esayian




Thu

Jan 17 11:30 am - 12:30 pm

with

Liza

Esayian




Thu

Jan 24 11:30 am - 12:30 pm

with

Liza

Esayian




Thu

Jan 31 11:30 am - 12:30 pm

with

Liza

Esayian




Thu

Feb 07 11:30 am - 12:30 pm

with

Liza

Esayian




Thu

Feb 14 11:30 am - 12:30 pm

with

Liza

Esayian