Mom + Baby Yoga (sign up: http://j.mp/SpectraMaYoga)
This class is taught by: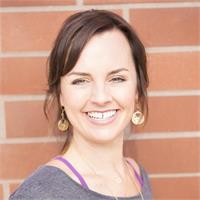 Bio: Lead Teacher Trainer for Spectra School of Yoga - As a professional dancer, I was first drawn to Yoga as a reliable method for physical therapy that I could practice on my own. Eventually, Yoga became so much more - I was hooked to its alignment principles, philosophy, mindfulness, and meditation. I also found a community of people on a similar path to personal growth. I made teaching Yoga my path in life, after experiencing the healing power of this practice, during a particularly traumatic event. I have never looked back. It is the greatest gift to share this practice with students and new teachers.
I bring strong alignment principles into my teaching with the space for students to have their own experience. In my classes, I create a space for students to press forward and to be still. I spent 8 years diving deeply into the teachings of Anusara yoga. I did my first 200-hour teacher training with Tony Guiliano, Kenny Graham, Tara Judelle, and Mark Holzman. I have completed teacher training intensives with Christina Sell and Noah Maze. My prenatal training is with Jessica Jennings and Ma Yoga (85 hours). I completed my 500-hour advanced teacher training with Noah Maze (Yogamaze). I am skilled in pose mechanics, therapeutics, meditation, labor skills, and have trained as a birth doula with Ana Paula Markel.
I have a deep and abiding call to bring the teachings of yoga to all different types of people – from pregnant women to aging baby boomers. The lessons of yoga are universal. There is an innate intelligence and inherent power in the human body that is both accessible and transformational. I can give you the tools to dig deep and realize the power of grace. E-RYT 200, RYT 500 and RPYT
Teaching Style: I am a teacher that is very interested in optimal alignment - and teaching that alignment. I also care deeply about the inner journey of the student. I hope that students have that dual experience of focusing deeply on the physical form and constantly reflecting back on how the shapes of the body effect the state of the mind and heart.
3 things I would put in a time capsule: yoga mat, my journal, hairspray :)
Find Me: www.colleenhieber.com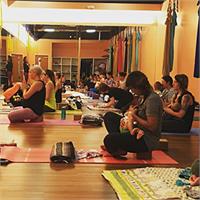 Register/Sign up/Pay at
SIGN UP ONLINE AND YOUR FIRST CLASS IS FREE!
Level: All levels
Temperature: Room Temperature
Description: Mom + Baby Yoga is a class dedicated to parents and their newborn baby. Mothers are invited to come and experience a unique bonding experience with the new child in their lives. For the mother, this class greatly assists her to get back into her body and to start reintegrating core strength again. We also focus on allowing things to be a little hectic (babies crying, crawling, & feeding), while staying connected to breath. This is an amazing opportunity to introduce your baby to yoga, but also for parents to get out of the house, use your muscles, and meet other conscious parents to create a community of support and loving fun. Mom + Baby Yoga is appropriate for moms as soon as she is cleared for exercise by her care provider (usually 6-8 weeks postpartum) and is best for babies who are not yet on the move (if your baby just started crawling come try it out and see how it goes! Your first MA yoga class is free).
Spectra Yoga is the host site for this class and does not take responsibility for registration or payment. Please visit
to sign up and pay for these classes.
Upcoming classes:
Fri

Aug 24 1:00 pm - 2:00 pm

with

Colleen

Hieber




Fri

Aug 31 1:00 pm - 2:00 pm

with

Colleen

Hieber




Fri

Sep 07 1:00 pm - 2:00 pm

with

Colleen

Hieber




Fri

Sep 14 1:00 pm - 2:00 pm

with

Colleen

Hieber




Fri

Sep 21 1:00 pm - 2:00 pm

with

Colleen

Hieber




Fri

Sep 28 1:00 pm - 2:00 pm

with

Colleen

Hieber




Fri

Oct 05 1:00 pm - 2:00 pm

with

Colleen

Hieber




Fri

Oct 12 1:00 pm - 2:00 pm

with

Colleen

Hieber




Fri

Oct 19 1:00 pm - 2:00 pm

with

Colleen

Hieber




Fri

Oct 26 1:00 pm - 2:00 pm

with

Colleen

Hieber




Fri

Nov 02 1:00 pm - 2:00 pm

with

Colleen

Hieber




Fri

Nov 09 1:00 pm - 2:00 pm

with

Colleen

Hieber




Fri

Nov 16 1:00 pm - 2:00 pm

with

Colleen

Hieber




Fri

Nov 23 1:00 pm - 2:00 pm

with

Colleen

Hieber




Fri

Nov 30 1:00 pm - 2:00 pm

with

Colleen

Hieber




Fri

Dec 07 1:00 pm - 2:00 pm

with

Colleen

Hieber




Fri

Dec 14 1:00 pm - 2:00 pm

with

Colleen

Hieber