Hot Yoga: Static Series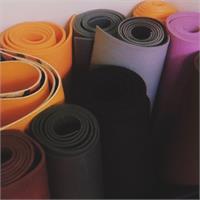 Level: All Levels
Temperature: 100 degrees F
Description: Hot Yoga Static Series is a class consisting of a set sequence of breathing exercises and asanas practiced in the same order each class. This sequence is designed to systematically open up the muscles, joints, and stimulate the internal organs. Each pose is held for an extended amount of time allowing students to correct their alignment and deepen into the pose with consistent practice. One of the main benefits from this style is the increased awareness and concentration developed from practicing yoga in a heated environment. Synergy is the key to creating community in this class. All of the students are encouraged to move together as one in this class under the direction of the teacher. Moving into, staying in the asana, and releasing out of poses at the same time will greatly promote the uniting energy of this particular class. The intense heat is also critical in speeding up the flexibility in muscles and joints. Additionally, the copious sweating is desired to open up pores in the skin and achieve detoxification from inside and out. Due to the high heat, hydration before class will help students succeed.
Upcoming classes: