Intro to Aerial Yoga (register 4 hours before)
This class is taught by: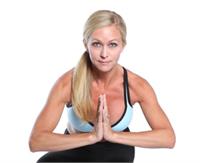 Bio: I teach yoga because I believe in it's ability to heal our minds and bodies after experiencing it for myself. Prior to trying yoga I had a regular fitness routine that included ballet dancing, Pilates, aerobic classes and light strength training. Even though I was active I found myself spending a lot of time visiting my massage therapist and chiropractor to repair imbalances in my physiology. I began looking for a more effective way to restore harmony in my body and tried my first yoga class at age 40. I started noticing improvements in my flexibility and functionality with yoga. Shortly after I began a regular yoga practice I had some difficult life events that really tested my emotional wellness too. I craved the peace that I found each time I went to yoga, and found it was helping my mind as much as my body. That grew into a real love for it and a spark to share my love with others by becoming a certified instructor.
I teach Hatha / Vinyasa yoga and Aerial Yoga. I love the lighthearted fun of the hammock classes and discovering new ways of using the hammock for strengthening, stretching, restoring and translating yoga poses in new dimensions.
Teaching Style: Encouraging, friendly, educational. I am very focused on teaching alignment and breath so my students find stability and space in their postures first, and then start exploring strength and depth of the pose.
3 things I would put in a time capsule: A fuzzy warm sweater, lip gloss, photo of my husband, son & dogs.
Find Me: Facebook @Karen Clark Yoga
Instagram @fijikarenyoga
Bio: In the early summer of 2003, Aileen began her Hot Yoga practice after strong recommendations by her Aunt Ann. Initially her yoga practice was intended as a solution for the infamous "Freshman 10" she gained at the University of Southern California. Yet soon thereafter through an intense and dedicated practice, the fat shed and Aileen discovered that yoga's benefits offered much more than losing weight. Since childhood, Aileen suffered from acute eczema, asthma, and allergies. In fact, the allergies were quite severe and she resorted to allergen immunotherapy. Enduring the allergy shot regimen for six years, she finally stopped after developing an on going yoga practice. She soon noticed that her allergy, asthma, and eczema symptoms were beginning to slowly disappear a year later. Additionally, as an athlete with a background in tennis, swimming, and track & field, Aileen discovered a great alternative to intensive sports in Hot Yoga. Aileen soon found that Hot Yoga not only increased her flexibility, but also relieved stress, increased energy, improved balance, and developed acute body awareness and concentration. Yoga proved to be extremely complementary to her workouts outside the yoga studio.Aileen completed two 200 hour yoga teacher training with Yoga Works in 2007 and with Corepower Yoga in 2008. In 2010, she completed her 500 hour yoga therapy training. She also studied to become a personal trainer in 2007 and has taken multiple workshops to continue her education especially in the area of Acro Yoga, Kids Yoga, Pre-natal, and Aerial. Coupling her knowledge of different types of yoga and personal fitness helps her to become a better yoga instructor and therapist. Her love for the practice has inspired her to teach and help others live a healthier and balanced life.
Teaching Style: I teach with a lot of enthusiasm and energy as I love to motivate and support my students. No matter what style of class I am teaching, I want my students to let go and rely that I will guide them safely through an encouraging and fun class. My goal is to uplift my students' minds and bodies to face new challenges and conquer old ones all the while staying present to enjoy each moment of class.
3 Things I would put in a time capsule: Hanson's 1997 debut album "Middle of Nowhere," photo album of vacations with friends and family, and one of my paintings
Find Me: Instagram @aileenpham and @spectrayoga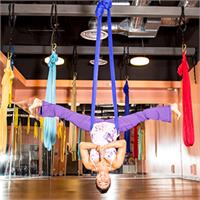 First time students are required to take Intro to Aerial Yoga. First class is also FREE. Sign up 4 hours ahead and call Spectra 714-436-0576

Level: All levels
Temperature: Room Temperature
Description: A class to get acquainted with the aerial silk apparatus! Like a 'first date' with aerial yoga, students will be gradually taught how to use the silk hammock for expressing traditional yoga poses in unconventional new dimensions. Stretching techniques for shoulders, hips and hamstrings using the silk allows students to explore a deeper range of motion, connect to core stabilizing muscle groups. The aerial yoga teacher will teach students how to access inversions without any pressure on the head or neck while allowing decompression of the spine. Backbends such as half or full bow using full support of the silk are introduced. Experience Savasana in a completely new way, enveloped and safely supported by the silk hammock.
Aerial yoga is safe for most students who can do inversions (no history of glaucoma, high blood pressure, stroke). Expectant mama's are welcome to do aerial yoga with their doctor's permission. It is recommended to wear a top that covers your underarms and long pants or leggings for both men & women.
Upcoming classes:
Sun

Jun 25 10:15 am - 11:15 am

with

Karen

Clark




Sign Up

Fri

Jun 30 4:00 pm - 5:00 pm

with

Aileen

Pham




Sign Up

Sun

Jul 02 10:15 am - 11:15 am

with

Karen

Clark




Sign Up

Fri

Jul 07 4:00 pm - 5:00 pm

with

Aileen

Pham




Sign Up

Sun

Jul 09 10:15 am - 11:15 am

with

Karen

Clark




Fri

Jul 14 4:00 pm - 5:00 pm

with

Aileen

Pham




Sun

Jul 16 10:15 am - 11:15 am

with

Karen

Clark




Fri

Jul 21 4:00 pm - 5:00 pm

with

Aileen

Pham




Sun

Jul 23 10:15 am - 11:15 am

with

Karen

Clark




Fri

Jul 28 4:00 pm - 5:00 pm

with

Aileen

Pham




Sun

Jul 30 10:15 am - 11:15 am

with

Karen

Clark




Fri

Aug 04 4:00 pm - 5:00 pm

with

Aileen

Pham




Sun

Aug 06 10:15 am - 11:15 am

with

Karen

Clark




Fri

Aug 11 4:00 pm - 5:00 pm

with

Aileen

Pham




Sun

Aug 13 10:15 am - 11:15 am

with

Karen

Clark




Fri

Aug 18 4:00 pm - 5:00 pm

with

Aileen

Pham




Sun

Aug 20 10:15 am - 11:15 am

with

Karen

Clark




Fri

Aug 25 4:00 pm - 5:00 pm

with

Aileen

Pham




Sun

Aug 27 10:15 am - 11:15 am

with

Karen

Clark




Fri

Sep 01 4:00 pm - 5:00 pm

with

Aileen

Pham