Intro to Aerial Yoga (register 4 hours before)
This class is taught by: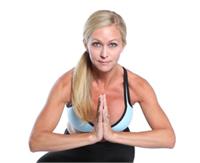 Bio: I teach yoga because I believe in it's ability to heal our minds and bodies after experiencing it for myself. Prior to trying yoga I had a regular fitness routine that included ballet dancing, Pilates, aerobic classes and light strength training. Even though I was active I found myself spending a lot of time visiting my massage therapist and chiropractor to repair imbalances in my physiology. I began looking for a more effective way to restore harmony in my body and tried my first yoga class at age 40. I started noticing improvements in my flexibility and functionality with yoga. Shortly after I began a regular yoga practice I had some difficult life events that really tested my emotional wellness too. I craved the peace that I found each time I went to yoga, and found it was helping my mind as much as my body. That grew into a real love for it and a spark to share my love with others by becoming a certified instructor.
I teach Hatha / Vinyasa yoga and Aerial Yoga. I love the lighthearted fun of the hammock classes and discovering new ways of using the hammock for strengthening, stretching, restoring and translating yoga poses in new dimensions.
Teaching Style: Encouraging, friendly, educational. I am very focused on teaching alignment and breath so my students find stability and space in their postures first, and then start exploring strength and depth of the pose.
3 things I would put in a time capsule: A fuzzy warm sweater, lip gloss, photo of my husband, son & dogs.
Find Me: Facebook @Karen Clark Yoga
Instagram @fijikarenyoga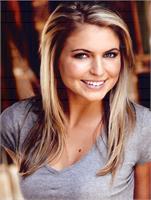 Bio: Kylie found yoga when she was studying journalism at U.C. Berkeley. She not only fell in love with the physical artistry of the practice, but with the mental freedom of a good savasana. Wanting to learn more behind yogic philosophy, she studied Buddhism and meditation at Berkeley while deepening her own practice. After graduating, she completed her 200 hour yoga teacher training in Huntington Beach and began teaching various styles of power yoga including sculpt and advanced vinyasa flow. Shortly after, she fell into with what she thought was her antithesis: restorative yoga. She used to say, "Who wants to sit there and stretch for an hour? If I have an hour, I'm going to burn calories." She realized that her attitude was the very reason she needed a calming, centering practice and discovered the magic of true stillness. Later, she combined her love for the ocean with her love for yoga by teaching paddle board yoga in Santa Barbara. Next, she took to the sky as an aerial yogi and completed her Aerial Teacher Training through both Trilogy Sanctuary and Spectra's School for Yoga. She felt aerial to be like medicine for her back pain associated with a spinal fusion surgery and loved feeling like a bird in the silk. When she's off the mat, you can find her writing, coming up with ideas and thinking about stories as a student in the Writing for the Screen and Television M.F.A. program at USC's School for Cinematic Arts. She compares writing to yoga. "They're really the same thing. In writing, we tell stories through words on paper. In yoga, we tell them through our bodies."
Teaching Style: Kylie sets an intention at the beginning of each class: "I want my students to leave feeling accomplished, centered, and free."
3 things that I would put in a time capsule: My journals, one of my favorite books, and a photo of my huge family!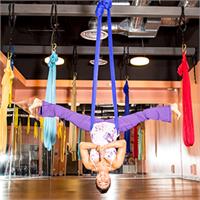 First time students are required to take Intro to Aerial Yoga. First class is also FREE. Sign up 4 hours ahead and call Spectra 714-436-0576

Level: All levels
Temperature: Room Temperature
Description: A class to get acquainted with the aerial silk apparatus! Like a 'first date' with aerial yoga, students will be gradually taught how to use the silk hammock for expressing traditional yoga poses in unconventional new dimensions. Stretching techniques for shoulders, hips and hamstrings using the silk allows students to explore a deeper range of motion, connect to core stabilizing muscle groups. The aerial yoga teacher will teach students how to access inversions without any pressure on the head or neck while allowing decompression of the spine. Backbends such as half or full bow using full support of the silk are introduced. Experience Savasana in a completely new way, enveloped and safely supported by the silk hammock.
Aerial yoga is safe for most students who can do inversions (no history of glaucoma, high blood pressure, stroke). Expectant mama's are welcome to do aerial yoga with their doctor's permission. It is recommended to wear a top that covers your underarms and long pants or leggings for both men & women.
Upcoming classes:
Sign Up

Thu

Oct 19 6:15 pm - 7:15 pm

with

Karen

Clark




Sign Up

Sun

Oct 22 11:30 am - 12:30 pm

with

Kylie

Swenson




Sign Up

Sun

Oct 29 11:30 am - 12:30 pm

with

Kylie

Swenson




Sign Up

Thu

Nov 02 6:15 pm - 7:15 pm

with

Karen

Clark




Sun

Nov 05 11:30 am - 12:30 pm

with

Kylie

Swenson




Thu

Nov 09 6:15 pm - 7:15 pm

with

Karen

Clark




Sun

Nov 12 11:30 am - 12:30 pm

with

Kylie

Swenson




Sun

Nov 19 11:30 am - 12:30 pm

with

Kylie

Swenson




Sun

Nov 26 11:30 am - 12:30 pm

with

Kylie

Swenson




Thu

Nov 30 6:15 pm - 7:15 pm

with

Karen

Clark




Sun

Dec 03 11:30 am - 12:30 pm

with

Kylie

Swenson




Thu

Dec 07 6:15 pm - 7:15 pm

with

Karen

Clark




Sun

Dec 10 11:30 am - 12:30 pm

with

Kylie

Swenson




Thu

Dec 14 6:15 pm - 7:15 pm

with

Karen

Clark




Sun

Dec 17 11:30 am - 12:30 pm

with

Kylie

Swenson




Thu

Dec 21 6:15 pm - 7:15 pm

with

Karen

Clark




Sun

Dec 24 11:30 am - 12:30 pm

with

Kylie

Swenson