Intro to Aerial Yoga (register 4 hours before)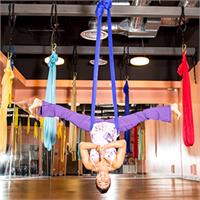 Sign up 4 hours ahead and call Spectra 714-436-0576
Level: All levels
Temperature: Room Temperature
Description: A class to get acquainted with the aerial silk apparatus! Like a 'first date' with aerial yoga, students will be gradually taught how to use the silk hammock for expressing traditional yoga poses in unconventional new dimensions. Stretching techniques for shoulders, hips and hamstrings using the silk allows students to explore a deeper range of motion, connect to core stabilizing muscle groups. The aerial yoga teacher will teach students how to access inversions without any pressure on the head or neck while allowing decompression of the spine. Backbends such as half or full bow using full support of the silk are introduced. Experience Savasana in a completely new way, enveloped and safely supported by the silk hammock.
Aerial yoga is safe for most students who can do inversions (no history of glaucoma, high blood pressure, stroke). Expectant mama's are welcome to do aerial yoga with their doctor's permission. It is recommended to wear a top that covers your underarms and long pants or leggings for both men & women.
Upcoming classes:
Sun

Aug 19 11:30 am - 12:30 pm

with

Kylie

Swenson




Sign Up

Mon

Aug 20 10:30 am - 11:30 am

with

Karen C

Clark




Sign Up

Wed

Aug 22 10:30 am - 11:30 am

with

Michaela

Drageset




Sign Up

Thu

Aug 23 6:15 pm - 7:15 pm

with

Kylie

Swenson




Sign Up

Fri

Aug 24 4:45 pm - 5:45 pm

with

Kylie

Swenson




Sign Up

Sun

Aug 26 11:30 am - 12:30 pm

with

Kylie

Swenson




Sign Up

Mon

Aug 27 10:30 am - 11:30 am

with

Karen C

Clark




Sign Up

Wed

Aug 29 10:30 am - 11:30 am

with

Michaela

Drageset




Sign Up

Thu

Aug 30 6:15 pm - 7:15 pm

with

Sheila

Mann




Sign Up

Fri

Aug 31 4:45 pm - 5:45 pm

with

Sheila

Mann




Sign Up

Sun

Sep 02 11:30 am - 12:30 pm

with

Kylie

Swenson




Mon

Sep 03 10:15 am - 11:15 am

with

Karen C

Clark




Wed

Sep 05 10:15 am - 11:15 am

with

Michaela

Drageset




Thu

Sep 06 6:15 pm - 7:15 pm

with

Sheila

Mann




Fri

Sep 07 4:45 pm - 5:45 pm

with

Sheila

Mann




Sun

Sep 09 11:30 am - 12:30 pm

with

Kylie

Swenson