Summer Yoga in the Park
This class is taught by: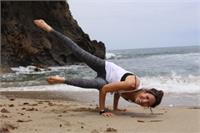 Bio: Yoga became a way of life for me when my youngest son was in pre-kindergarten and I had time to dedicate to the practice. After my first yoga class, I was hooked! I love that I was able to have an hour or two out of the day to dedicate to myself and I was able to focus on nothing but what was happening on the mat. I soon became a regular on my yoga mat, practicing any free time I had. I love how yoga challenged me, at the same leaving me with a sense of peace and contentment. My husband and I share our love of yoga and meditation with our children.
I decided to take Spectra School of Yoga's teacher training program in 2016. It was an incredible experience and I loved what I was learning. My hatha/vinyasa yoga style is strongly influenced by the great teachers I have had along the way. I feel very fortunate to have been surrounded by and continue to feel the support in my home, my neighborhood and yoga community. Yoga has enriched my life in insurmountable ways!
Teaching Style: My teaching style is vinyasa flow with attention to cueing and alignment. I am encouraging to my students allowing them to feel comfortable and not intimidated, to challenge themselves.
3 things I would put in a time capsule:
1) picture of my family, 2) ipod with all my music, 3) yoga mat
Come enjoy a Spectra Yoga class at Halecrest Park! For 4 Saturdays this summer, you can take a morning yoga class on 5 acres of lush, shady green in a park setting.
This class is family friendly and all levels are welcome. Please bring a yoga mat, towel, water, and shades!
Session 1: July 8, 15, 22, & 29
Session 2: August 5, 12, 19, & 26
Cost: $50/session
Address: 3124 College Avenue, Costa Mesa, CA 92626