Acro Yoga Level 2
This class is taught by:
Bio: Avid Acroyogi and slackliner. I love to teach, play, and learn. I have been teaching AcroYoga for about a year now and have enjoyed every bit of it. On the constant path of learning and expanding my talents. I also enjoy backpacking and reading at the local coffee shops.
Teaching Style: Very much a demonstrator, I prefer to show the skill we are learning then help guide/coach the students to develop the skill.
3 things I would put in a time capsule: Slackline; Wine; Survival Knife
Find Me: Facebook @Cody.Shellenberger & Instagram @acroyogicody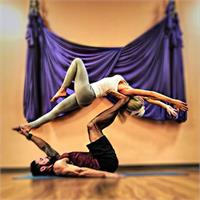 Level: Intermediate
Temperature: Room Temperature
Description: Acro Yoga is a dynamic class that combines the art of Acrobatics, Yoga and Thai Massage. The beauty of this class relies upon community, cooperation, communication, and care amongst participants. Students work together in yoga poses which makes this class unique. Additionally, using another person's body weight in various postures helps increase flexibility and strength. The Acro Yoga practice can be great way to foster relationship building, however, you do not need to have a partner to attend this class as we will all work together.
Acro Yoga 2 is a faster paced class than Acro Yoga 1 but still accessible to anyone with a base level understanding of body awareness. We will use the basic poses for warmups and calibrations, building into transitions and flows. You will learn how to link poses together, and get to explore different concepts of partner balance work. We will still be working in groups of three with a base, flyer, and spotter. Recommended that you are familiar with the basic poses.
Upcoming classes: