Yoga for Healing
This class is taught by:
Bio: Lynette came to yoga after being diagnosed with Fibromyalgia at the age of 32. Searching for more natural ways to heal her body from debilitating pain, a friend suggested she try yoga - and
she was instantly hooked. Lynette loved the way the physical practice of yoga could be adapted to suit her individual body's needs, which, over time, helped her regain mobility and relief from pain. Eager to learn more, she began what is now a 20+ year journey into the study and practice of yoga asana, yoga philosophy, pranayama and meditation. Many classes, workshops, trainings and retreats later, Lynette knew it was her dharma to share the gift of yoga
with others. In 2015 she completed her 200-hour yoga teacher training program with Colleen Hieber, Melissa Christensen and Aileen Pham at Spectra Yoga. She is currently completing her 300-hour advanced yoga teacher training with Courtney Parkyn, Megan Bello, Liz Heffernan and
Alison Scola through Soma Yoga Institute and Better Living Yoga.

Teaching Style: Lynette believes that yoga is accessible to everyone, regardless of age, fitness level, injuries, or conditions. Recognizing that no two bodies are the same, she takes an adaptive approach to teaching. Whether you are a beginner or advanced practitioner, her students are encouraged to embrace their uniqueness and approach their yoga practice in an authentic way that supports their individual bodies. Lynette's intention for her students is that they will develop a deeper mind-body connection and experience the many healing benefits of yoga, resulting in an increase in overall wellness and vitality.

3 things I would put in a time capsule: 1. My yoga props, 2. My favorite book Anatomy of the Spirit
by Carolyn Myss, 3. An iPod with all my favorite music.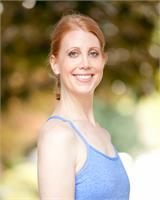 Bio: Ashley McKeachie is a certified yoga therapist and registered yoga teacher, who has been committed to teaching the power of yoga since 2011. She received her yoga therapy certification from Loyola Marymount University (LMU) in 2014, and three years later, she graduated with her Masters in Yoga Studies from LMU in 2017. She spends most of her time working with chronic pain patients at the Orange County Pain and Wellness Center, and teaches as adjunct faculty at Orange Coast College, where she oversees the yoga program. Along with private yoga therapy sessions, corporate yoga, and leading yoga teacher trainings, Ashley loves to teach
diverse group yoga classes at Spectra Yoga since the opening of the studio in 2015. Recently, she was chosen as one of the featured faculty for Spectra Yoga's 300-hour advanced yoga teacher training, beginning in September 2018, where Ashley will teach Sanskrit, ancient texts, Tantra,
and Therapeutic yoga.
Ashley began her yoga journey in January 2010, with a background of over twenty years of ballet, jazz, and modern dance. After being diagnosed with thyroid disease in 2006, Ashley went through two sessions of radioactive iodine to reduce the size of her overactive thyroid. The radiation left her feeling lethargic, weak, unmotivated, and desperate for better overall health. Yoga was introduced to Ashley by her favorite Pilates instructor, and she has not looked back
since! Yoga completely changed Ashley's body, mind, and spirit, strengthening her physical, mental, and emotional self. Ashley focuses on positivity, visualization, and themes in her yoga classes. She welcomes all types of students who are interested in the yoga experience; especially those who want to enhance their quality of life.

Teaching Style: Ashley believes that yoga is not in a rush, and her classes are focused on slow, elegant movements that compliment rich, deep inhales, and long, smooth exhales. Expect to move through honey, as Ashley inspires you to connect to your true self, the source of all confidence,
wisdom, and joy.
3 Things I would put in a time capsule:
DVD Copy of Jaws (First scary movie that instilled a massive fear of swimming in the ocean), Margarita Pizza from Florence, Italy (Ashley lived in Italy for 10 years), Book Copy of Heart of Yoga, by TKV Desikachar
Find Me: FB & IG- @AshleyMcKeachieYoga
www.ashleymckeachieyoga.com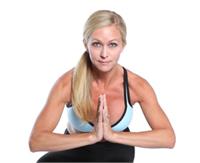 Bio: I teach yoga because I believe in it's ability to heal our minds and bodies after experiencing it for myself. Prior to trying yoga I had a regular fitness routine that included ballet dancing, Pilates, aerobic classes and light strength training. Even though I was active I found myself spending a lot of time visiting my massage therapist and chiropractor to repair imbalances in my physiology. I began looking for a more effective way to restore harmony in my body and tried my first yoga class at age 40. I started noticing improvements in my flexibility and functionality with yoga. Shortly after I began a regular yoga practice I had some difficult life events that really tested my emotional wellness too. I craved the peace that I found each time I went to yoga, and found it was helping my mind as much as my body. That grew into a real love for it and a spark to share my love with others by becoming a certified instructor.
I teach Hatha / Vinyasa yoga and Aerial Yoga. I love the lighthearted fun of the hammock classes and discovering new ways of using the hammock for strengthening, stretching, restoring and translating yoga poses in new dimensions.
Teaching Style: Encouraging, friendly, educational. I am very focused on teaching alignment and breath so my students find stability and space in their postures first, and then start exploring strength and depth of the pose.
3 things I would put in a time capsule: Lip gloss, yoga mat, cozy sweater & sweat pants

Find Me: FB @Karen Clark Yoga
IG @liftedspirits_yoga
Level: Beginner
Temperature: Room Temperature
Description: This class is perfect for students who are newer to yoga, are working through a healing process or simply want a calmer class format for today. With the support of yoga props, the teacher will explore different poses each week that support everything from back pain to menopause symptom relief.
If you need to come watch this class to see how it goes, you are more than welcome to observe before you sign up to take this class.
Upcoming classes: