Cheri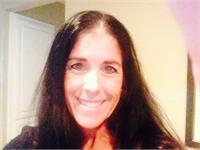 Bio: Cheri has been teaching group fitness classes since 1990. Started teaching high/low impact & Step classes. After having 3 children decided to quit her full time job as a Youth Marking Rep for Coca Cola to become a stay at home mother of 3 daughters. Trying to find the balance betwwen, mom work & her sanity. Cheri decided to come back into the fitness world. She started teaching kickboxing, strength & cycle classes. 6 years ago she discovered Yoga and fell in love. She now brings her high energy fitness background in with her passion for yoga.
Teaching Style: Energetic & Not for babies J/K. But truly energetic and light hearted.
3 things I would put in a time capsule: 1) Picture of my family,
2) Candy (lot's and lots of my favorite), 3) A pair of my small jeans: God know they wont fit me in 10 years, but it would be nice to see where I once was :)
Find Me: Facebook @CheriBotts
Cheri instructs the following:
Hatha Yoga Level 1: Yoga Fundamentals
Level: All levels → good for beginners
Temperature: Room Temperature
Description: Level 1 yoga is an instructional and confidence building class. All great things must rely on a sound foundation. This class focuses heavily on correct postural alignment and developing appropriate yogic breathing. Fundamental poses that are common to many classes such as Downward Facing Dog and Warrior Poses will be broken down for the students, and modifications will be given if needed. Building a strong yoga foundation is crucial in a student's success on the mat as their yoga journey blossoms. Level 1 yoga is a class for all students whether new or experienced. It's always good to reconnect to your beginnings.




Level:

Advanced Beginner/Intermediate

Temperature:

95 degrees F

Description:

Two worlds collide in one class. Yogalates is a great combination of yoga and pilates to achieve a tremendous amount of core strengthening. Students will experience yoga's incredible ability to warm up the body and enhance flexibility, which ultimately supports the mental and physical alignment required in all of the mat pilates exercises. These two disciplines go hand in hand as the benefits of each art feed into the other. The importance of yoga alignment combined with pilates' core strengthening exercises makes for a challenging yet worthwhile experience. This class is appropriate for intermediate level students.




Level: Intermediate/Advanced
Temperature: 95 degrees F
Description: Boost your muscles and uplift your soul in a Yoga Lift class. This class unites the high energy of light weight lifting and the mindful alignment of yoga. Light to heavy weights are provided to each student to use during class to add challenge and help strengthen muscles. This is a great class to improve your fitness level and cardiovascular endurance. The spirit of the class will uplift, strengthen, detoxify, and encourage endorphin release. This class is practiced in a hot room, so please bring a towel, water, and wear moisture wicking clothes.

Yoga Lift 2 is appropriate for intermediate level students who have taken Yoga Lift 1 and are looking for a more intense class. The pace of the class is quicker than Yoga Lift 1 and the workout is slightly more strenuous.




Yoga Lift is an energizing and dynamic class combining the art of yoga and light weight lifting to increase stamina and strength.

Guest teachers joining the training with Aileen are Cheri Bot and Jamie Ali. They are both highly experienced teachers who have been teaching this style of yoga for many years. All three of us were educated in this style and are now teaching this class in our own fun but challenging way. This training will highlight the main goals of this class, purpose of the weights, and breakdown the sequence of Yoga Lift.

Teachers interested in taking this course should be 200 Hour Yoga Teacher Certified.