Josh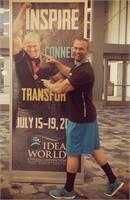 Bio: Josh Phelan from Out of Bounds Training is a passionate individual looking to make a difference in your life. The training he provides is unparalleled in the community. With his 6+ years of experience, Josh not only runs a successful fitness business in Costa Mesa, but is also impacting people's lives everyday.
His philosophy reaches outside the borders of the gym, and goes beyond sweat, and reps.
While training is critical for all people looking to achieve a strong, and healthy body, it is only one component. Josh's formula for your success is: Strengthen your mind, ignite your spirit, and condition your body. When these three components of your life are addressed and sought after daily, then you will be on your way to an extraordinary life.
Without getting too philosophical, your new trainer also is a voracious reader, practices hot yoga, has done Crossfit, worked with TRX for over 5 years, and is continually working on his craft through conferences, coaches, mentors, retreats, and other avenues including the Todd Durkin Mastermind Group.
Teaching Style: I believe physical training begins in your mind. Your body won't go where your mind doesn't push it. I will help you to break down those limiting beliefs of yourself and build a stronger and more awesome version of you. And yes, you are already awesome, we're just going to increase the level ;-)
3 things I would put in a time capsule: 1) my journal
2) my personal library of books
3) my box of tickets (I keep all of them - concerts, games, movies, etc)
Find Me: Facebook/Instagram/Twitter @OutOfBoundsTrainings
Josh is currently not instructing any classes.