Lauren R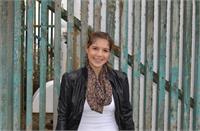 Bio: Lauren first started her yoga journey in 2007 after the end of a long term relationship. After experiencing the challenges of yoga in her first class she was immediately hooked! Throughout the years she was able to build self-confidence, mindfulness, and strength with a regular practice. Lauren also used yoga as a tool to help her heal from years of chronic back pain. Finally, in 2014 she took the long awaited leap of faith and decided to become a certified teacher. Lauren completed her 200-hour certification through Ra Yoga. In the months following her certification, Lauren has volunteered her time to teach for those in her workspace and for a local recovery center. As a California native Lauren enjoys spending time in the outdoors, as well as curling up to a good book. Her main goals as a new teacher are to expose as many people as possible to the benefits of yoga as well as build confidence and balance.
Teaching Style: My teaching style would best be described as flowing yet precise. I love the transition from asana to asana but emphasize the importance of alignment.
3 things I would put in a time capsule: 1) Sriracha! I can't live a day without it. 2) a space heater (or anything warm). I'm constantly cold and love being bundled up. 3) My kindle. I'm a sucker for a good book or anything that expands my knowledge.
Find Me: Instagram @lil_lauren8 or Lauren Ramsey on Facebook :)
Lauren R is currently not instructing any classes.