Lauren R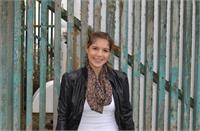 Bio: Lauren first started her yoga journey in 2007 after the end of a long term relationship. After experiencing the challenges of yoga in her first class she was immediately hooked! Throughout the years she was able to build self-confidence, mindfulness, and strength with a regular practice. Lauren also used yoga as a tool to help her heal from years of chronic back pain. Finally, in 2014 she took the long awaited leap of faith and decided to become a certified teacher. Lauren completed her 200-hour certification through Ra Yoga. In the months following her certification, Lauren has volunteered her time to teach for those in her workspace and for a local recovery center. As a California native Lauren enjoys spending time in the outdoors, as well as curling up to a good book. Her main goals as a new teacher are to expose as many people as possible to the benefits of yoga as well as build confidence and balance.
Teaching Style: My teaching style would best be described as flowing yet precise. I love the transition from asana to asana but emphasize the importance of alignment.
3 things I would put in a time capsule: 1) Sriracha! I can't live a day without it. 2) a space heater (or anything warm). I'm constantly cold and love being bundled up. 3) My kindle. I'm a sucker for a good book or anything that expands my knowledge.
Find Me: Instagram @lil_lauren8 or Lauren Ramsey on Facebook :)
Lauren R instructs the following:
Level: All levels
Temperature: Room Temperature
Description: Highly trained instructors will teach to each students level and ability in class, which makes this full body fitness class a great experience for any level student. This class will use a multitude of equipment such as dumbbells, resistance bands, slam balls, and jump ropes, but most importantly the TRX. Originating from the Navy Seals, TRX Suspension Training is the latest and greatest in strength and endurance training. Students will use their body weight combined with the suspension straps to utilize every muscle in their body.

The main focus in this class is centered on core stabilization to gain strength, definition, better posture, and endurance to name a few. Each day you will get a 45 minute full body workout, with a higher emphasis on one body part depending on which day of the week it is. You can find the Full Body Fitness schedule in the monthly newsletter.

This class is practiced in a cool room and outside. It will require a yoga mat, tennis shoes, comfortable athletic wear, and water.