Matt B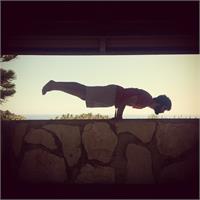 Bio: Matt was born and raised in Orange County and lives an active lifestyle. He enjoys running, biking, hiking, surfing, skating, and and most team sports. He began taking yoga classes as a way to gain more balance and flexibility, and quickly realized its benefits physically, mentally, and spiritually. Matt quickly fell in love with the philosophy of yoga and tries to incorporate it into his daily life on and off the mat. He is constantly trying to create a place of peace and happiness in the studio and in his life. As an avid musician, he finds a sense of relaxation while playing multiple instruments and listening to an eclectic mix of music. Matt completed his 200 hr teacher training in December 2012 and is constantly learning as much as he can about different styles of yoga to better his students practice as well as his own.
Teaching Style: Very Grounding approach to teaching power vinyasa, hot, and yin/restorative yoga
3 things I would put in a time capsule: iPod with all my favorite music/created music, Light on Yoga, and a Tibetan singing bowl
Matt B instructs the following:
Hatha Yoga Level 1: Yoga Fundamentals
Level: All levels → good for beginners
Temperature: Room Temperature
Description: Level 1 yoga is an instructional and confidence building class. All great things must rely on a sound foundation. This class focuses heavily on correct postural alignment and developing appropriate yogic breathing. Fundamental poses that are common to many classes such as Downward Facing Dog and Warrior Poses will be broken down for the students, and modifications will be given if needed. Building a strong yoga foundation is crucial in a student's success on the mat as their yoga journey blossoms. Level 1 yoga is a class for all students whether new or experienced. It's always good to reconnect to your beginnings.




Hatha Yoga Level 2: Flow and Let Go
Level: Advanced Beginner/Intermediate
Temperature: 95 degrees F
Description: Level 2 yoga builds upon the fundamentals learned in Level 1 to add an increased challenge to a yoga class. The solid knowledge base learned from Level 1 carry over to this class and Level 2 students are encouraged to let go of newcomer energy and flow confidently in this class. Instructors sequence the asanas in more ornate and creative fashions to keep students improving and feeling challenged. Some instructors may choose to teach this class in a Vinyasa format where the poses and transitions from pose to pose are linked with a breath cue. Depending on the teacher, this class can be taught at a faster pace than the Level 1 class. Additionally, a broader range of asanas and breathing techniques are taught to increase flexibility, strength, and concentration. This class is practiced in a warm room and is appropriate for advanced beginner/intermediate students.




Level: All Levels
Temperature: 100 degrees F
Description: Hot Yoga 1 is a class consisting of a set sequence of breathing exercises and asanas practiced in the same order each class. This sequence is designed to systematically open up the muscles, joints, and stimulate the internal organs. Each pose is held for an extended amount of time allowing students to correct their alignment and deepen into the pose with consistent practice. One of the main benefits from this style is the increased awareness and concentration developed from practicing yoga in a heated environment. Synergy is the key to creating community in this class. All of the students are encouraged to move together as one in this class under the direction of the teacher. Moving into, staying in the asana, and releasing out of poses at the same time will greatly promote the uniting energy of this particular class. The intense heat is also critical in speeding up the flexibility in muscles and joints. Additionally, the copious sweating is desired to open up pores in the skin and achieve detoxification from inside and out. Due to the high heat, hydration before class will help students succeed.




Level: Intermediate
Temperature: 100 degrees F
Description: Hot Yoga 2 is a pumped up version of Hot Yoga 1. Drawing from the asanas and uniting philosophy present in the Hot Yoga 1 class, Hot Yoga 2 is sequenced in a more flowing and creative manner to further challenge the students physically and mentally. The major differences between the Hot 1 and 2 is that the asanas are held longer in Hot 1 and the class moves at a quicker pace in the Hot 2. There are a few added sections in this class to increase core strength and upper body endurance. Hot Yoga 2 is a fun, vitalizing, and grounding class designed for intermediate students.