Chihiro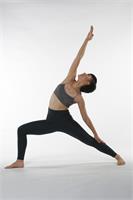 Bio: Chihiro Sano, originally from Japan, has completed Power Yoga Certification in 2011 and Hot Power Fusion and Core Restore Certification in 2013 with Corepower Yoga. Chihiro believes Yoga brings happiness in life and strength in body and is passionated about sharing her love of yoga with people of all ages. As a professional modern dancer, she has been performing thought out the country with Backhausdance at venues including McCallum Theater in Palm Desert, at Irvine Barclay Theater, at the American Dance Festival in North Carolina, Carpenter Center in Long Beach and at the Joyce SoHo in New York City. Chihiro loves to eat, sleep, eat, yoga, dance, eat, sweat, read. (and eat.)
Teaching Style: Flowing, Challenging, Peaceful
3 Things I would put in a time capsule: Yoga Mat, Japanese chopsticks, Dance clothes
Chihiro instructs the following:
Hatha/Vinyasa Yoga Level 1/2: Yoga Fundamentals+
Level: All levels → good for beginners
Temperature: 85-90 degrees F
Description: Level 1.5 yoga is an instructional and confidence building class. All great things must rely on a sound foundation. This class focuses heavily on correct postural alignment and developing appropriate yogic breathing. Fundamental poses that are common to many classes such as Downward Facing Dog and Warrior Poses will be broken down for the students, and modifications will be given if needed. Building a strong yoga foundation is crucial in a student's success on the mat as their yoga journey blossoms. Level 1.5 yoga is a class for beginners and those working towards building upon a yoga foundation. Options will be given to students to advance their practice working towards Level 2 poses.




Level: Advanced Beginner/Intermediate
Temperature: 95 degrees F
Description:Two worlds collide in one class. Yogalates is a great combination of yoga and pilates to achieve a tremendous amount of core strengthening. Students will experience yoga's incredible ability to warm up the body and enhance flexibility, which ultimately supports the mental and physical alignment required in all of the mat pilates exercises. These two disciplines go hand in hand as the benefits of each art feed into the other. The importance of yoga alignment combined with pilates' core strengthening exercises makes for a challenging yet worthwhile experience. This class is appropriate for intermediate level students.

It is recommended that pregnant mothers in their 2nd and 3rd trimester do not take this class as there is a fair amount of ab work.