Ashley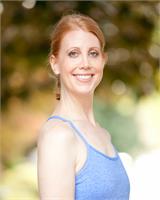 Bio:
Ashley McKeachie is a registered yoga instructor and yoga therapist, who received her 200-hour teacher training through Core Power Yoga and her 800- hour clinical yoga therapy certification at Loyola Marymount University. She is currently pursuing a Masters Degree in Yoga Studies from Loyola Marymount University, with an expected graduation date of Spring 2017. While attending school, Ashley works as a yoga therapist at the Orange County Pain and Wellness Center in Santa Ana. In this functional restoration program, she teaches patients a variety of tools of yoga to help alleviate the symptoms associated with chronic pain. Ashley is part-time faculty at Orange Coast College, and teaches Hatha Yoga Level 1 and 2 for the Kinesiology department. She also teaches numerous types of group yoga classes at SportsCare Chiropractic in Huntington Beach and Spectra Yoga in Costa Mesa, including Yoga Therapy, Vinyasa, Power, Yin, Restorative, Chair, and Prime Of Life Yoga™. Ashley has been the official yoga therapist for the UC Irvine Men's Basketball Team since 2013, and wishes them well in their current season.
Ashley began her yoga journey in January 2010, with a background of over twenty years of ballet, jazz, and modern dance. Upon returning to Southern California in 2008 after living in Italy for 10 years, she was diagnosed with thyroid disease. She went through two sessions of radioactive iodine to reduce the size of her overactive thyroid, which left her feeling lethargic, weak, unmotivated, and desperate for better overall health. Yoga completely changed Ashley, making her the strongest she has ever been, and continues to improve the connection between her mind, body, and breath. She brings encouragement, hands-on adjustments, visualization, and the Yoga Sutras to her classes. Ashley believes that Yoga gives you the confidence to know and feel that everything is as it should be, and you are already perfect exactly the way you are.
Teaching Style: Ashley believes that yoga is not in a rush, and her classes are focused on slow, smooth movements that compliment rich, deep inhales and exhales. Expect to move through honey, as Ashley inspires you to connect to your true self, the source of all confidence, wisdom, and joy.


3 things I would put in a time capsule:
1) DVD Copy of Jaws (First scary movie that instilled a massive fear of swimming in the ocean), 2) Margarita Pizza from Florence, Italy (Ashley lived in Italy for 10 years), 3)Diploma from Loyola Marymount University, Masters in Yoga Studies (Hopefully, she will be admitted in Fall 2015)
Find Me: Facebook @Ashley McKeachie Yoga, www.ashleyoga.com
Ashley instructs the following:
Level: All levels
Temperature: Room Temperature
Description: Challenging in a different way, Yin Yoga consists of longer held, mostly seated or lying postures that passively stretch connective tissue and muscles in order to unblock held energy and release physical tightness. Accompanied by relaxing music and guided instruction to help still and quiet the mind, yin yoga will help students gain greater flexibility and mobility, as well as a new sense of calm and balance that carries throughout the day. Yin Yoga is a great way to balance the dynamic and muscular (yang) styles of yoga. Yin is practiced in a cool room and appropriate for all levels (including prenatal).