Michaela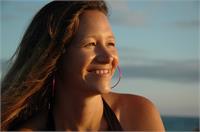 Bio:
Michaela is a passionate, yoga teacher and alternative health practitioner who works with different types of yoga, meditation and trance-work to help people accomplish changes in their life in a profound way. As an instructor, she continues to learn and grow in all things yoga so she can bring it to her students. Her introduction to natural healing arts started when Michaela was growing up on the island of Maui with surfers, yogis, painters and healers all around her but Michaela wandered from there. Michaela continued to practice meditation and movement arts at different points throughout her life, and as Michaela moved into adulthood, she found yoga and breathwork again where she felt at home and wanted to teach it, but life had other plans for her including four beautiful children. However, when the time was right, almost eight years after she started her family, she studied intensively with Doug Swenson attending Sadhana Yoga Chi, which is foundationally Astanga. Michaela received her 500 Hr Certification with him in 2013 and taught ever since and is now and E-RYT500 and Yoga Alliance Certified Education Provider. With her love of yoga as a cornerstone, she continued to expand her knowledge with TYS Aerial Yoga I, II, III, and Gentle Aerial Yoga; Unnata Aerial Yoga I, II; Treat While You Train, a Yoga Tune-Up Format, and Yoga For First Responders, a Trauma Informed Yoga. As Michaela aims to bring you an informed practice she continues to learn through Loyola Marymount's Yoga Philosophy Program so there is always something new to learn from her. But she hasn't stopped there; she has studied over 200 hours of in-depth trance-work with the San Diego Hypnosis Institute with David Snyder and is currently working through 700 Hours with Hypnotist Practitioners Training Institute where she continues in personal client work with the subconscious mind. With everything that she has learned, her purpose in guiding people has become about teaching people compassion to love themselves in an integrated way that supports their goals in life while finding balance and strength in every aspect. She aims to make hearts a little lighter and bring joy to the world, to be an Elevation Through Inspiration.
Teaching Style: Graceful Movement, Alignment-focused combined with Inner Wisdom
3 Things for a time capsule: A Camera with Family and Friend Photos, Pen/Paints and Paper, a Bottle of Ho'okipa Sand
Find Me: Facebook @michaeladragesetyoga; Instagram @michaeladrageset
Michaela instructs the following:
Sign up 4 hours ahead and call Spectra 714-436-0576




Level: All levels

Temperature: Room Temperature
Description: A class to get acquainted with the aerial silk apparatus! Like a 'first date' with aerial yoga, students will be gradually taught how to use the silk hammock for expressing traditional yoga poses in unconventional new dimensions. Stretching techniques for shoulders, hips and hamstrings using the silk allows students to explore a deeper range of motion, connect to core stabilizing muscle groups. The aerial yoga teacher will teach students how to access inversions without any pressure on the head or neck while allowing decompression of the spine. Backbends such as half or full bow using full support of the silk are introduced. Experience Savasana in a completely new way, enveloped and safely supported by the silk hammock.

Aerial yoga is safe for most students who can do inversions (no history of glaucoma, high blood pressure, stroke). Expectant mama's are welcome to do aerial yoga with their doctor's permission. It is recommended to wear a top that covers your underarms and long pants or leggings for both men & women.




Level: All levels
Temperature: Room Temperature
Description: Meditation is a powerful tool you can use to shift your energy and tune into your true essence. You'll gain clarity and a sense of calming peace that results in happiness. In this class, you are taught techniques to calm and quiet the incessant chatter of the mind and re-direct your energy to a place of stillness. The instructor will allow time for questions, discussion, and mentorship to help students hone their practice. Meditation can change your life as it helps to reduce stress, anxiety, and depression. It is practiced in a cool room and is highly recommended for all levels. This class is a combo class with a light asana practice before the meditation. Movement will be used to set your body up to go deeper into the meditation practice.




Level: All levels
Temperature: Room Temperature
Description: Children deserve to have a spiritual and loving community like the adults. Kids get to know themselves through discussions and self awareness techniques such as yoga. In this class just for kids, interactive and fun games are used to teach yoga postures and breathing exercises. As a result, children channel their surplus energy to strengthen their bodies and minds. Meditation is also introduced to help them learn how to relax, focus, and develop self awareness. Children leave feeling accomplished and happy. Kids Yoga is a special class designed for children between the ages of 5-11.




*This class is not included in the monthly membership. Additional cost required to take this class.

Level: All levels

Temperature: Room Temperature
Description: Aerial Yoga is a unique experience of yoga asana practiced on the mat combined with asanas practiced in a suspended hammock. Using the aid of gravity, the hammock is an effective tool for realignment of the body as it acts like a hands on adjustment. The way in which the hammock guides the body into better alignment is greatly useful when translating the poses to the mat. The hammock is suspended about waist height off the ground and the instructor will guide students in and out of the hammock mindfully and safely. Aerial Yoga is intended to assist students to relax their mind and body, release tension, and rebuild proper alignment.

No jewelry, no zippers, wear clothing that protects armpits and knees.