Joey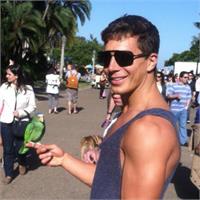 Bio: After tearing his ACL playing Collegiate Lacrosse in the fall of 2006, Joseph needed to find a way to stay strong through the injury and he turned to yoga. The healing path of Iyengar Yoga was extremely intriguing and Joey started to seriously study Iyengar's methods at Western State University, CO. Following the yogic path he completed his 200 Hour Teacher Training at Corepower Yoga, Huntington Beach in 2010. Joseph continues his studies over the next 8 years throughout the country with world renown teachers such as Brock Cayhill, Shiva Rea, Janet Stone, & Annie Carpenter to name a few. He has accumulated over 5,000 hours on the mat and has found yoga to be the backbone for developing happy, healthy & conscious lifestyle. When he's not teaching his high energy, pumped up classes, you can find him riding his bike across the county, dueling out in intergalactic star fights, and traveling the world searching for the best house music for his classes, while always keeping an eye out for the Temple of Doom. *mostly true
Teaching Style: High energy, powerful, and spiritual. Medicine for your soul
3 things I would put in a time capsule: Basketball, soccer ball, & frisbee
Find Me: Facebook @Joseph.Omara
Joey instructs the following:
Level:

All Levels

Temperature:

Room Temperature

Description:

Animal Movement brings the yogic mindset off the mat and into an open movement space of creativity and play. The class mindfully draws from aspects of vinyasa, dance, animal flow, hand balancing, and quadruped motion to build strength, mobility, body awareness and flow. Those practicing do not need an prior experience but just an open mind to a different way you can move your body.

Note: This class is intended for people who have healthy joints, especially wrists, shoulders, hips and toes.




Hatha Yoga Level 2: Flow and Let Go
Level: Advanced Beginner/Intermediate
Temperature: 95 degrees F
Description: Level 2 yoga builds upon the fundamentals learned in Level 1 to add an increased challenge to a yoga class. The solid knowledge base learned from Level 1 carry over to this class and Level 2 students are encouraged to let go of newcomer energy and flow confidently in this class. Instructors sequence the asanas in more ornate and creative fashions to keep students improving and feeling challenged. Some instructors may choose to teach this class in a Vinyasa format where the poses and transitions from pose to pose are linked with a breath cue. Depending on the teacher, this class can be taught at a faster pace than the Level 1 class. Additionally, a broader range of asanas and breathing techniques are taught to increase flexibility, strength, and concentration. This class is practiced in a warm room and is appropriate for advanced beginner/intermediate students.




Hatha Yoga Level 1: Yoga Fundamentals
Level: All levels → good for beginners
Temperature: Room Temperature
Description: Level 1 yoga is an instructional and confidence building class. All great things must rely on a sound foundation. This class focuses heavily on correct postural alignment and developing appropriate yogic breathing. Fundamental poses that are common to many classes such as Downward Facing Dog and Warrior Poses will be broken down for the students, and modifications will be given if needed. Building a strong yoga foundation is crucial in a student's success on the mat as their yoga journey blossoms. Level 1 yoga is a class for all students whether new or experienced. It's always good to reconnect to your beginnings.