Joey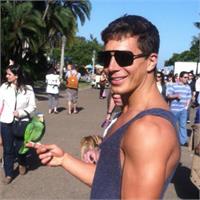 Bio: Joey completed his training in 2010 to teach Vinyasa Yoga and Yoga Lift. When he's not teaching his high energy, pumped up classes, you can find him riding his bike across the county, dueling out in intergalactic star fights, and traveling the world searching for the best house music for his classes, while always keeping an eye out for the Temple of Doom. *mostly true
Teaching Style: High energy, powerful, and spiritual. Medicine for your soul
3 things I would put in a time capsule: Basketball, soccer ball, & frisbee
Find Me: Facebook @Joseph.Omara
Joey instructs the following:
Level: All levels → good for beginners
Temperature: Room Temperature
Description: Combining the fundamental practices of Iyengar (Alignment) Yoga with the relaxing intention of Restorative Yoga, this class incorporates gentle asana, basic pranayama (breath work) and lots of props to leave your body better aligned and restored. Students will be guided to practice yoga against a wall to assist with spinal alignment and strengthening. The instructor will cue nuances of each pose to help students find personal postural awareness. This class is great for beginners and is practiced in a non-heated environment.