Jaclyn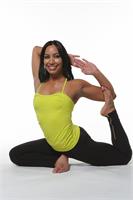 Bio: Jaclyn was born and raised in Orange County, and studied Health Sciences at UC Santa Cruz. She has always been very active, committing early on to dance, gymnastics, soccer, and swim, but it wasn't until she began her yoga journey after college that she found her true passion. Jaclyn lives to be outdoors, loves to cook, and truly believes in the healing forces of nature. In 2009, Jaclyn completed her RYT Power Vinyasa yoga training, and since has been trained and certified in Hot yoga, Sculpting yoga, Restorative yoga, and mat Pilates. For Jaclyn, practicing yoga has had such a positive impact both physically and mentally. Every day she looks forward to sharing her knowledge to help educate others about the many benefits of yoga, and inspiring individuals to live healthier, happier lives.
Teaching Style: I think of my teaching style as graceful but challenging. Combining breath and movement with fines and strength.
3 things I would put in a time capsule: If I were to put three items in a time capsule so someone in the future could better understand me, I would put a photo of my amazing family showing one of our many fiestas in Yucatan, my swim fins because I should've been born with gills, and the yoga BeachBody dvd I just filmed because it was a huge yoga stepping stone for me and my little claim to fame :)
Find Me: Facebook @ Jaclyn Avalos
Jaclyn instructs the following:
Hatha Yoga Level 2: Flow and Let Go
Level: Advanced Beginner/Intermediate
Temperature: 90-95 degrees F
Description: This 75 minute Level 2 yoga practice builds upon the fundamentals learned in Level 1 to add an increased challenge to a yoga class. The solid knowledge base learned from Level 1 carry over to this class and Level 2 students are encouraged to let go of newcomer energy and flow confidently in this class. Instructors sequence the asanas in more ornate and creative fashions to keep students improving and feeling challenged. Some instructors may choose to teach this class in a Vinyasa format where the poses and transitions from pose to pose are linked with a breath cue. Depending on the teacher, this class can be taught at a faster pace than the Level 1 class. Additionally, a broader range of asanas and breathing techniques are taught to increase flexibility, strength, and concentration. This class is practiced in a warm room and is appropriate for advanced beginner/intermediate students.




Level:

Advanced Beginner/Intermediate

Temperature:

95 degrees F

Description:

Two worlds collide in one class. Yogalates is a great combination of yoga and pilates to achieve a tremendous amount of core strengthening. Students will experience yoga's incredible ability to warm up the body and enhance flexibility, which ultimately supports the mental and physical alignment required in all of the mat pilates exercises. These two disciplines go hand in hand as the benefits of each art feed into the other. The importance of yoga alignment combined with pilates' core strengthening exercises makes for a challenging yet worthwhile experience. This class is appropriate for intermediate level students.