Jaclyn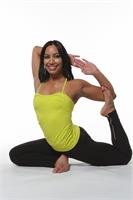 Bio: Jaclyn was born and raised in Orange County, and studied Health Sciences at UC Santa Cruz. She has always been very active, committing early on to dance, gymnastics, soccer, and swim, but it wasn't until she began her yoga journey after college that she found her true passion. Jaclyn lives to be outdoors, loves to cook, and truly believes in the healing forces of nature. In 2009, Jaclyn completed her RYT Power Vinyasa yoga training, and since has been trained and certified in Hot yoga, Sculpting yoga, Restorative yoga, and mat Pilates. For Jaclyn, practicing yoga has had such a positive impact both physically and mentally. Every day she looks forward to sharing her knowledge to help educate others about the many benefits of yoga, and inspiring individuals to live healthier, happier lives.
Teaching Style: I think of my teaching style as graceful but challenging. Combining breath and movement with fines and strength.
3 things I would put in a time capsule: If I were to put three items in a time capsule so someone in the future could better understand me, I would put a photo of my amazing family showing one of our many fiestas in Yucatan, my swim fins because I should've been born with gills, and the yoga BeachBody dvd I just filmed because it was a huge yoga stepping stone for me and my little claim to fame :)
Find Me: Facebook @ Jaclyn Avalos
Jaclyn is currently not instructing any classes.