Cassie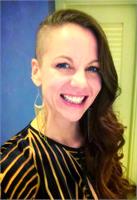 Bio: Cassie has always been an intellectual and spiritual seeker. At a very early age she began asking deep questions about the nature of the universe and the purpose of life. Cassie was unable to find literature or community that aligned with her thoughts to support her pursuit, until she found yoga! Being a natural athlete, Cassie easily sunk into the physical practice, and loved being able to connect her physicality with her mental and spiritual pursuits. Yoga changed her life, allowing her anxiety to ease, her heart to open, and her energy to soar. Wanting to share this path with others, Cassie completed her 200-hour teacher training in fall of 2014. She has also completed a 10-hour Yin Yoga training, and a 12-hour Prison yoga training. Cassie teaches for homeless shelters around Orange County, and hopes to bring yoga to the prison community. She loves leading her students to a good workout, proper alignment, and a stable and steady mind, while sharing a bit of yoga philosophy.
Teaching Style: Cassie's classes are ever evolving as she continues to develop in her role as a teacher. She leads a strong class, helping her students to find their edge, while guiding them to proper alignment for optimal strength and length. Her classes are also mindfulness based, always with the main intention of cultivating awareness and learning strategies to have a calm control over your own thoughts and emotions.
3 things I would put in a time capsule:
1. Gold promise ring. This not only symbolizes love, but also family, friendship, community and commitment. The stuff life is made of!
2. Meditations by Marcus Aurelius. Symbolizing my dedication to self-realization and academic pursuits.
3. Bell-bottom yoga pants (with a fun print). Symbolizing my love for yoga (of course!), as well as creative expression without regard to societal norms, the ability and strength to express yourself authentically.
Cassie instructs the following:
Hatha Yoga Level 1: Yoga Fundamentals
Level: All levels → good for beginners
Temperature: Room Temperature
Description: Level 1 yoga is an instructional and confidence building class. All great things must rely on a sound foundation. This class focuses heavily on correct postural alignment and developing appropriate yogic breathing. Fundamental poses that are common to many classes such as Downward Facing Dog and Warrior Poses will be broken down for the students, and modifications will be given if needed. Building a strong yoga foundation is crucial in a student's success on the mat as their yoga journey blossoms. Level 1 yoga is a class for all students whether new or experienced. It's always good to reconnect to your beginnings.