Haunani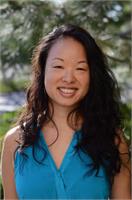 Bio: After I partially tore my Achilles tendons playing volleyball, I had to find a new way to workout that would also help rehabilitate my leg. I started attending yoga classes and fell in love with it. Not only was I getting a great workout, I was given the opportunity to find peace and relaxation. And that's exactly what I need to balance my Big 4 Accounting job (I'm also a CPA/product manager at KPMG). My favorite practice is Yin Yoga, which lead me to complete Yin Yoga teacher training even though I wasn't a yoga teacher yet. The course fueled me to want more! With the encouragement and support of my yoga family, I decided to take my practice to the next level by taking the 200 hour teacher training. Now, here I am sharing my love of yoga with you today!
Teaching Style: Do you feel like you're constantly on overdrive and your mind is always racing? Are you looking for a calm and peaceful place? Many of us live fast pace, demanding, and hectic lives – jobs, kids, traffic. Come to my class for the chance to unplug, take a breath, and center yourself.
3 things I would put in a time capsule: Pictures of friends and family, a note summarizing the past year, and a family tree.
Find Me: haunaniyoga@gmail.com
Haunani instructs the following:
Hatha Yoga Level 1: Yoga Fundamentals
Level: All levels → good for beginners
Temperature: Room Temperature
Description: Level 1 yoga is an instructional and confidence building class. All great things must rely on a sound foundation. This class focuses heavily on correct postural alignment and developing appropriate yogic breathing. Fundamental poses that are common to many classes such as Downward Facing Dog and Warrior Poses will be broken down for the students, and modifications will be given if needed. Building a strong yoga foundation is crucial in a student's success on the mat as their yoga journey blossoms. Level 1 yoga is a class for all students whether new or experienced. It's always good to reconnect to your beginnings.




Level: All levels
Temperature: Room Temperature
Description: Challenging in a different way, Yin Yoga consists of longer held, mostly seated or lying postures that passively stretch connective tissue and muscles in order to unblock held energy and release physical tightness. Accompanied by relaxing music and guided instruction to help still and quiet the mind, yin yoga will help students gain greater flexibility and mobility, as well as a new sense of calm and balance that carries throughout the day. Yin Yoga is a great way to balance the dynamic and muscular (yang) styles of yoga. Yin is practiced in a cool room and appropriate for all levels (including prenatal).