Jamie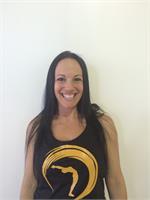 Bio: Growing up as a dancer, Jamie was first introduced to yoga in a ballet class at the age of 13. It wasn't until after her first child that she really saw the benefits, healing and beauty of yoga. She practiced mostly on her own until stumbling into a yoga class at the gym. It was then that she realized how special yoga was. After leaving that class, she felt amazingly happy, strong and emotionally empowered. She had made yoga her life. Wanting nothing more than to share the special gift with all who are willing.
Teaching style: I teach with love and compassion with an emphasis on alignment and safety. My teaching style is slower, allowing time and breath to melt into each pose.
3 things I would put in my time capsule: 1. Pictures of my family
2. French fries
3. T.V. so I can watch judge Judy (my guilty pleasure)
Jamie instructs the following:
Hatha/Vinyasa Yoga Level 1/2: Yoga Fundamentals+
Level: All levels → good for beginners
Temperature: 85-90 degrees F
Description: Level 1.5 yoga is an instructional and confidence building class. All great things must rely on a sound foundation. This class focuses heavily on correct postural alignment and developing appropriate yogic breathing. Fundamental poses that are common to many classes such as Downward Facing Dog and Warrior Poses will be broken down for the students, and modifications will be given if needed. Building a strong yoga foundation is crucial in a student's success on the mat as their yoga journey blossoms. Level 1.5 yoga is a class for beginners and those working towards building upon a yoga foundation. Options will be given to students to advance their practice working towards Level 2 poses.




Level: Intermediate/Advanced
Temperature: 95 degrees F
Description: Boost your muscles and uplift your soul in a Yoga Lift class. This class unites the high energy of light weight lifting and the mindful alignment of yoga. Light to heavy weights are provided to each student to use during class to add challenge and help strengthen muscles. This is a great class to improve your fitness level and cardiovascular endurance. The spirit of the class will uplift, strengthen, detoxify, and encourage endorphin release. This class is practiced in a hot room, so please bring a towel, water, and wear moisture wicking clothes.

Yoga Lift 2 is appropriate for intermediate level students who have taken Yoga Lift 1 and are looking for a more intense class. The pace of the class is quicker than Yoga Lift 1 and the workout is slightly more strenuous.




Level:

Advanced Beginner/Intermediate

Temperature:

95 degrees F

Description:

Two worlds collide in one class. Yogalates is a great combination of yoga and pilates to achieve a tremendous amount of core strengthening. Students will experience yoga's incredible ability to warm up the body and enhance flexibility, which ultimately supports the mental and physical alignment required in all of the mat pilates exercises. These two disciplines go hand in hand as the benefits of each art feed into the other. The importance of yoga alignment combined with pilates' core strengthening exercises makes for a challenging yet worthwhile experience. This class is appropriate for intermediate level students.




Yoga Lift is an energizing and dynamic class combining the art of yoga and light weight lifting to increase stamina and strength.

Guest teachers joining the training with Aileen are Cheri Bot and Jamie Ali. They are both highly experienced teachers who have been teaching this style of yoga for many years. All three of us were educated in this style and are now teaching this class in our own fun but challenging way. This training will highlight the main goals of this class, purpose of the weights, and breakdown the sequence of Yoga Lift.

Teachers interested in taking this course should be 200 Hour Yoga Teacher Certified.




Hatha Yoga Level 2: Flow and Let Go
Level: Advanced Beginner/Intermediate
Temperature: 95 degrees F
Description: Level 2 yoga builds upon the fundamentals learned in Level 1 to add an increased challenge to a yoga class. The solid knowledge base learned from Level 1 carry over to this class and Level 2 students are encouraged to let go of newcomer energy and flow confidently in this class. Instructors sequence the asanas in more ornate and creative fashions to keep students improving and feeling challenged. Some instructors may choose to teach this class in a Vinyasa format where the poses and transitions from pose to pose are linked with a breath cue. Depending on the teacher, this class can be taught at a faster pace than the Level 1 class. Additionally, a broader range of asanas and breathing techniques are taught to increase flexibility, strength, and concentration. This class is practiced in a warm room and is appropriate for advanced beginner/intermediate students.