Jamie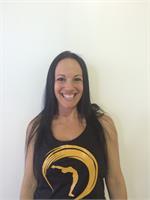 Bio: Growing up as a dancer, Jamie was first introduced to yoga in a ballet class at the age of 13. It wasn't until after her first child that she really saw the benefits, healing and beauty of yoga. She practiced mostly on her own until stumbling into a yoga class at the gym. It was then that she realized how special yoga was. After leaving that class, she felt amazingly happy, strong and emotionally empowered. She had made yoga her life. Wanting nothing more than to share the special gift with all who are willing.
Teaching style: I teach with love and compassion with an emphasis on alignment and safety. My teaching style is slower, allowing time and breath to melt into each pose.
3 things I would put in my time capsule: 1. Pictures of my family
2. French fries
3. T.V. so I can watch judge Judy (my guilty pleasure)
Jamie instructs the following:
Level: Intermediate/Advanced
Temperature: 95 degrees F
Description: Boost your muscles and uplift your soul in a Yoga Lift class. This class unites the high energy of light weight lifting and the mindful alignment of yoga. Light to heavy weights are provided to each student to use during class to add challenge and help strengthen muscles. This is a great class to improve your fitness level and cardiovascular endurance. The spirit of the class will uplift, strengthen, detoxify, and encourage endorphin release. This class is practiced in a hot room, so please bring a towel, water, and wear moisture wicking clothes. Yoga Lift is appropriate for intermediate level students.




Level:

Advanced Beginner/Intermediate

Temperature:

95 degrees F

Description:

Two worlds collide in one class. Yogalates is a great combination of yoga and pilates to achieve a tremendous amount of core strengthening. Students will experience yoga's incredible ability to warm up the body and enhance flexibility, which ultimately supports the mental and physical alignment required in all of the mat pilates exercises. These two disciplines go hand in hand as the benefits of each art feed into the other. The importance of yoga alignment combined with pilates' core strengthening exercises makes for a challenging yet worthwhile experience. This class is appropriate for intermediate level students.




Level: All levels
Temperature: Room Temperature
Description: Highly trained instructors will teach to each students level and ability in class, which makes this full body fitness class a great experience for any level student. This class will use a multitude of equipment such as dumbbells, resistance bands, slam balls, and jump ropes, but most importantly the TRX. Originating from the Navy Seals, TRX Suspension Training is the latest and greatest in strength and endurance training. Students will use their body weight combined with the suspension straps to utilize every muscle in their body.

The main focus in this class is centered on core stabilization to gain strength, definition, better posture, and endurance to name a few. Each day you will get a 45 minute full body workout, with a higher emphasis on one body part depending on which day of the week it is. You can find the Full Body Fitness schedule in the monthly newsletter.

This class is practiced in a cool room and outside. It will require a yoga mat, tennis shoes, comfortable athletic wear, and water.




Hatha/Vinyasa Yoga Level 1/2: Yoga Fundamentals+
Level: All levels → good for beginners
Temperature: 85-90 degrees F
Description: Level 1.5 yoga is an instructional and confidence building class. All great things must rely on a sound foundation. This class focuses heavily on correct postural alignment and developing appropriate yogic breathing. Fundamental poses that are common to many classes such as Downward Facing Dog and Warrior Poses will be broken down for the students, and modifications will be given if needed. Building a strong yoga foundation is crucial in a student's success on the mat as their yoga journey blossoms. Level 1.5 yoga is a class for beginners and those working towards building upon a yoga foundation. Options will be given to students to advance their practice working towards Level 2 poses.