Christine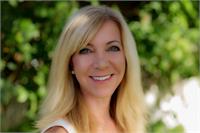 Bio: Christine started to meditate when she was around 6 years old, staring at a Holly Hobby picture on the wall to settle her mind at night. Only decades later did she learn she was practicing Trataka, the meditative practice of gazing at an external object. Perhaps it is no surprise that Christine was naturally drawn to meditation and started practicing again as a way to calm her mind and increase mindfulness in her daily life.
As Christine continued to develop her meditation practice, she experienced even more benefits including reduced insomnia, more focus and an increased connectedness with life. She was happier. She was drawn to the practice and wanted to learn as much about meditation as possible. Christine explains "If I can meditate (with my over-active mind) anyone can!"
Christine became certified to teach the Simple, Easy, Every Day Meditation (SEED Meditation®) created by Sarah McLean. She also holds a BA in Communications and Business Economics from the University of California, Santa Barbara. Her desire is to teach meditation to individuals or groups looking for a way to improve their well-being through meditation. Her smile grows even larger when teaching people who are new to meditation as she loves the idea of spreading the practice. Christine lives in Orange County with her husband, teenage son and two furry friends, Ruka and Maya. Her interests outside of meditation include hiking, yoga, writing and traveling.
Teaching Style: Meditation is the practice of bringing your gentle attention to a focus again and again. The focus could be your breath, mantra, physical sensations or anything that allows you to return to the present moment in a gentle way. I teach the Simple, Easy, Every Day Meditation Method (SEED Meditation Method) which is a collection of powerful, time-tested meditation practices that can reduce stress and enhance your life. The foundation of the meditation practices I teach includes breath awareness, body awareness, silent mantra, self-inquiry and heart centered breath. My favorite techniques are focusing on the breath and body… it is simple and you always have them available for you!
3 things I would put in a time capsule: A family photo, my rollerblades and some pixie dust
Find Me: thepausebuttonmeditation@gmail.com
Facebook: @The PAUSE Button Meditation
Website: http://www.thepausebuttonmeditation.com/
Christine instructs the following:
Level: All Levels
Temperature: Room Temperature
Description: Yin yoga with sound healing can create space for the sound to soothe you, raise consciousness and carry you into other realms of the experience. Yin yoga consists of longer held, mostly seated or lying postures that passively stretch connective tissue and muscles in order to unblock held energy and release physical tightness. The healing sounds of the crystal bowls, chimes, drums and more can bring harmony to the body, mind and spirit. Yin is practiced in a cool room and appropriate for all levels (including prenatal).




Meditation is the journey from activity to silence. In aerial meditation, you will securely drift just above the floor, creating a feeling of weightlessness and sending external distractions further away. By cocooning into the aerial silk hammock, you may experience therapeutic benefits such as relief from hip or back discomfort sometimes present when we meditate seated on the floor.

The aerial silk hammock will safely embrace you in postures both seated and lying on your back during this meditation practice.



UPCOMING CLASSES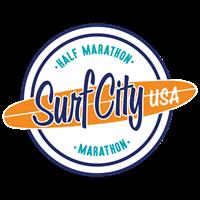 Spectra Run Club: Surf City Training

with

Kevin

Mullen
Next held on Sun, Dec 16, 2018 at 7:00 am - 8:00 am
This
enrollment
runs from Sun Nov 4, 2018 - Sun Jan 27, 2019
Learn More
Online registration is closed. Please contact us for details.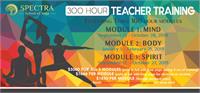 300 Hr: BODY Module
More About This Course
300 Hr Teacher Training: BODY

with

Melissa

Christensen
Next held on Sun, Jan 6, 2019 at 9:00 am - 6:00 pm
This
enrollment
runs from Sun Jan 6, 2019 - Sun Feb 24, 2019
300 Hr Teacher Training: BODY

with

Aileen

Pham
Next held on Thu, Jan 10, 2019 at 5:30 pm - 9:30 pm
This
enrollment
runs from Thu Jan 10, 2019 - Thu Feb 21, 2019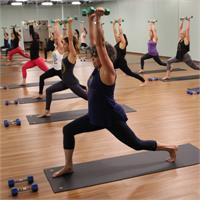 Yoga Lift Teacher Training
More About This Course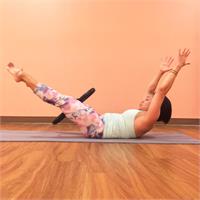 Yogalates Teacher Training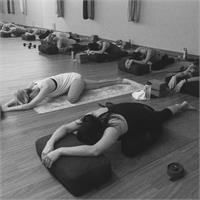 Yin Yoga Teacher Training
More About This Course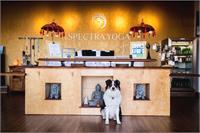 200 Hour Yoga Teacher Training
More About This Course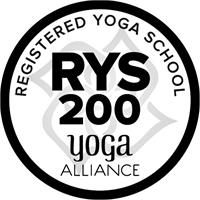 200 Hour Yoga Teacher Training

with

Aileen

Pham
Next held on Thu, Feb 28, 2019 at 6:30 pm - 9:30 pm
This
enrollment
runs from Thu Feb 28, 2019 - Thu May 23, 2019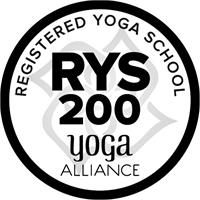 200 Hour Yoga Teacher Training

with

DJ

Arnold
Next held on Fri, Mar 1, 2019 at 5:30 pm - 9:30 pm
This
enrollment
runs from Fri Mar 1, 2019 - Fri May 24, 2019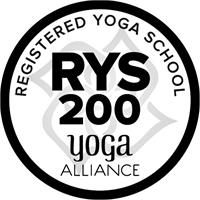 200 Hour Yoga Teacher Training

with

Melissa

Christensen
Next held on Sun, Mar 3, 2019 at 9:00 am - 5:00 pm
This
enrollment
runs from Sun Mar 3, 2019 - Sun May 19, 2019