Ray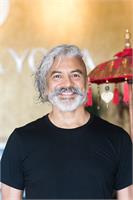 Bio: Ardent Yoga & Pilates student & instructor, meditator, and Acroyogi. Grateful for the life-transforming qualities of the practice yoga postures, Pilates exercises, meditation and acroyoga sessions.
Teaching style: For Yoga - emphasis on breath to connect inwardly and become present; for Pilates - emphasis on breath to facilitate centering, concentration, control, flow, and precision; for Acroyoga - emphasis on fun, and safety (through appropriate spotting).
3 things I would put in a time capsule: A copy of each of the following books - Light On Yoga, Pilates' Return to Life Through Contrology, and The Power of Now
Find Me: iamyogiray@gmail.com
Ray instructs the following:
Level: All Levels
Temperature: Room Temperature
Description: Acro Yoga - All levels is accessible to anyone! The instructor will guide students through the basic partner Acro Yoga poses and build on those to create fun flows. You will learn how to link poses together, and get to explore different concepts of partner balance work. We will still be working in groups of three with a base, flyer, and spotter. A great class to work on your Acro Yoga practice with options to challenge yourself!