Lynette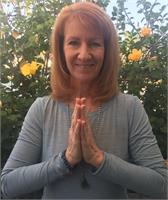 Bio: Lynette came to yoga after being diagnosed with Fibromyalgia at the age of 32. Searching for more natural ways to heal her body from debilitating pain, a friend suggested she try yoga - and
she was instantly hooked. Lynette loved the way the physical practice of yoga could be adapted to suit her individual body's needs, which, over time, helped her regain mobility and relief from pain. Eager to learn more, she began what is now a 20+ year journey into the study and practice of yoga asana, yoga philosophy, pranayama and meditation. Many classes, workshops, trainings and retreats later, Lynette knew it was her dharma to share the gift of yoga
with others. In 2015 she completed her 200-hour yoga teacher training program with Colleen Hieber, Melissa Christensen and Aileen Pham at Spectra Yoga. She is currently completing her 300-hour advanced yoga teacher training with Courtney Parkyn, Megan Bello, Liz Heffernan and
Alison Scola through Soma Yoga Institute and Better Living Yoga.

Teaching Style: Lynette believes that yoga is accessible to everyone, regardless of age, fitness level, injuries, or conditions. Recognizing that no two bodies are the same, she takes an adaptive approach to teaching. Whether you are a beginner or advanced practitioner, her students are encouraged to embrace their uniqueness and approach their yoga practice in an authentic way that supports their individual bodies. Lynette's intention for her students is that they will develop a deeper mind-body connection and experience the many healing benefits of yoga, resulting in an increase in overall wellness and vitality.

3 things I would put in a time capsule: 1. My yoga props, 2. My favorite book Anatomy of the Spirit
by Carolyn Myss, 3. An iPod with all my favorite music.
Lynette instructs the following:
Level: All levels
Temperature: Room Temperature
Description: Challenging in a different way, Yin Yoga consists of longer held, mostly seated or lying postures that passively stretch connective tissue and muscles in order to unblock held energy and release physical tightness. Accompanied by relaxing music and guided instruction to help still and quiet the mind, yin yoga will help students gain greater flexibility and mobility, as well as a new sense of calm and balance that carries throughout the day. Yin Yoga is a great way to balance the dynamic and muscular (yang) styles of yoga. Yin is practiced in a cool room and appropriate for all levels (including prenatal).




Hatha Yoga Level 1: Yoga Fundamentals
Level: All levels → good for beginners
Temperature: Room Temperature
Description: Level 1 yoga is an instructional and confidence building class. All great things must rely on a sound foundation. This class focuses heavily on correct postural alignment and developing appropriate yogic breathing. Fundamental poses that are common to many classes such as Downward Facing Dog and Warrior Poses will be broken down for the students, and modifications will be given if needed. Building a strong yoga foundation is crucial in a student's success on the mat as their yoga journey blossoms. Level 1 yoga is a class for all students whether new or experienced. It's always good to reconnect to your beginnings.