Morgan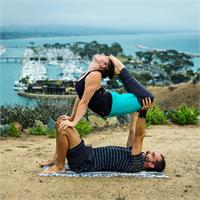 Bio:Morgan has been passionate about movement since she could walk. From dance and competitive gymnastics, she quickly realized that the way in which people understand and experience the mechanics of movement cannot be crammed into a "one size fits all" teaching philosophy. This realization has informed her belief in the importance of teaching to each individual, not just to a class en masse. Morgan discovered AcroYoga (acrobatic partner yoga) through her experience as a gymnast and aerial instructor and fell in love with the fun, community-based practice in 2009.
Morgan currently teaches a variety of movement activities including rock climbing, aerial silks, lyra, and AcroYoga. After working in so many disciplines, Morgan strongly believes in adapting classes and teaching styles to meet the varying needs of students from all backgrounds and experiences. Blending together the mindfulness and energy of yoga and acrobatics, AcroYoga ensures that we don't forget the value of play in our practice!
Teaching Style: I love working with new students and breaking down the mechanics of movement.
3 things I would put in a time capsule: 1) my overflowing bookshelves 2) brightly colored yoga pants 3) an aerial hammock
Find me: Instagram @kaleidoscopique
Morgan is currently not instructing any classes.