Leslie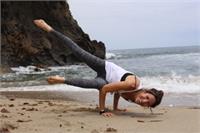 Bio: Yoga became a way of life for me when my youngest son was in pre-kindergarten and I had time to dedicate to the practice. After my first yoga class, I was hooked! I love that I was able to have an hour or two out of the day to dedicate to myself and I was able to focus on nothing but what was happening on the mat. I soon became a regular on my yoga mat, practicing any free time I had. I love how yoga challenged me, at the same leaving me with a sense of peace and contentment. My husband and I share our love of yoga and meditation with our children.
I decided to take Spectra School of Yoga's teacher training program in 2016. It was an incredible experience and I loved what I was learning. My hatha/vinyasa yoga style is strongly influenced by the great teachers I have had along the way. I feel very fortunate to have been surrounded by and continue to feel the support in my home, my neighborhood and yoga community. Yoga has enriched my life in insurmountable ways!
Teaching Style: My teaching style is vinyasa flow with attention to cueing and alignment. I am encouraging to my students allowing them to feel comfortable and not intimidated, to challenge themselves.
3 things I would put in a time capsule:
1) picture of my family, 2) ipod with all my music, 3) yoga mat
Leslie instructs the following:
Level: All levels
Temperature: Room Temperature
Description: Challenging in a different way, Yin Yoga consists of longer held, mostly seated or lying postures that passively stretch connective tissue and muscles in order to unblock held energy and release physical tightness. Accompanied by relaxing music and guided instruction to help still and quiet the mind, yin yoga will help students gain greater flexibility and mobility, as well as a new sense of calm and balance that carries throughout the day. Yin Yoga is a great way to balance the dynamic and muscular (yang) styles of yoga. Yin is practiced in a cool room and appropriate for all levels (including prenatal).




Hatha Yoga Level 2: Flow and Let Go
Level: Advanced Beginner/Intermediate
Temperature: 95 degrees F
Description: Level 2 yoga builds upon the fundamentals learned in Level 1 to add an increased challenge to a yoga class. The solid knowledge base learned from Level 1 carry over to this class and Level 2 students are encouraged to let go of newcomer energy and flow confidently in this class. Instructors sequence the asanas in more ornate and creative fashions to keep students improving and feeling challenged. Some instructors may choose to teach this class in a Vinyasa format where the poses and transitions from pose to pose are linked with a breath cue. Depending on the teacher, this class can be taught at a faster pace than the Level 1 class. Additionally, a broader range of asanas and breathing techniques are taught to increase flexibility, strength, and concentration. This class is practiced in a warm room and is appropriate for advanced beginner/intermediate students.




Hatha Yoga Level 1: Yoga Fundamentals
Level: All levels → good for beginners
Temperature: Room Temperature
Description: Level 1 yoga is an instructional and confidence building class. All great things must rely on a sound foundation. This class focuses heavily on correct postural alignment and developing appropriate yogic breathing. Fundamental poses that are common to many classes such as Downward Facing Dog and Warrior Poses will be broken down for the students, and modifications will be given if needed. Building a strong yoga foundation is crucial in a student's success on the mat as their yoga journey blossoms. Level 1 yoga is a class for all students whether new or experienced. It's always good to reconnect to your beginnings.




Hatha Yoga Level 2: Flow and Let Go
Level: Advanced Beginner/Intermediate
Temperature: 90-95 degrees F
Description: This 75 minute Level 2 yoga practice builds upon the fundamentals learned in Level 1 to add an increased challenge to a yoga class. The solid knowledge base learned from Level 1 carry over to this class and Level 2 students are encouraged to let go of newcomer energy and flow confidently in this class. Instructors sequence the asanas in more ornate and creative fashions to keep students improving and feeling challenged. Some instructors may choose to teach this class in a Vinyasa format where the poses and transitions from pose to pose are linked with a breath cue. Depending on the teacher, this class can be taught at a faster pace than the Level 1 class. Additionally, a broader range of asanas and breathing techniques are taught to increase flexibility, strength, and concentration. This class is practiced in a warm room and is appropriate for advanced beginner/intermediate students.




Come enjoy a Spectra Yoga class at Halecrest Park! For 4 Saturdays this summer, you can take a morning yoga class on 5 acres of lush, shady green in a park setting.

This class is family friendly and all levels are welcome. Please bring a yoga mat, towel, water, and shades!

Session 1: July 8, 15, 22, & 29
Session 2: August 5, 12, 19, & 26
Cost: $50/session
Address: 3124 College Avenue, Costa Mesa, CA 92626