Patrick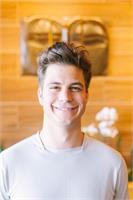 Patrick instructs the following:



Level: All Levels

Temperature: Room Temperature

Description: Experience the art of Yoga Nidra while holding Yin Yoga poses. Yoga Nidra is the a deep and restorative meditation practice that induces a state of mind between wakefulness and rest. Yin Yoga consists of longer held, mostly seated or lying postures that passively stretch connective tissue and muscles. When the two are combined you are deeply working your mind body connection to unblock held energy and release physical tightness all the while allowing the mind to move towards a more relaxing state of consciousness.