John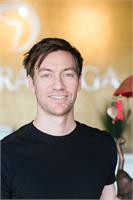 Bio: Growing up as an athlete, I have always found peace and calm in movement. I started my yoga practice seeking relief from neck and shoulder injuries. The mental and physical challenges kept me coming back and I soon became a regular student. I completed the Spectra School of Yoga teacher training in 2017. I am grateful for the amazing teachers and community at Spectra Yoga and I look forward to sharing my experience. Outside of the yoga studio I like to paint, play music, and swim in the ocean.
Teaching Style: Focused on intelligent alignment, strength building, and breath awareness
3 things I would put in a time capsule: My niece and nephew's drawings, drums, & fins
John instructs the following:
Hatha Yoga Level 2: Flow and Let Go
Level: Advanced Beginner/Intermediate
Temperature: Room Temperature
Description: Level 2 yoga builds upon the fundamentals learned in Level 1 to add an increased challenge to a yoga class. The solid knowledge base learned from Level 1 carry over to this class and Level 2 students are encouraged to let go of newcomer energy and flow confidently in this class. Instructors sequence the asanas in more ornate and creative fashions to keep students improving and feeling challenged. Some instructors may choose to teach this class in a Vinyasa format where the poses and transitions from pose to pose are linked with a breath cue. Depending on the teacher, this class can be taught at a faster pace than the Level 1 class. Additionally, a broader range of asanas and breathing techniques are taught to increase flexibility, strength, and concentration. This class is practiced in a non-heated room and is appropriate for advanced beginner/intermediate students.




Level: All Levels

Temperature: Room Temperature

Description: This all levels yoga class is designed to allow all bodies to gather and move together at their own comfort level. The teacher will provide options to satisfy the needs of the students. This Hatha/Vinyasa class is a wonderful way to start your day, as you move and breath together moving at your own speed.