Duane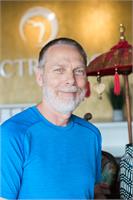 Bio: Duane has always been fitness oriented and contemplative. In high school, he ran on the cross country team. Then he joined the U.S Army and became a paratrooper, jumping out of airplanes and running around in the woods at night. With money saved for college, he graduated with a B.A. in Philosophy, and then he worked for 15 years as a licensed private investigator. Since then he has found more humble work. His great passion has been paddling on the ocean, whether it's whale watching, surfing, racing, or just enjoying quiet time far offshore. When he began practicing yoga over 20 years ago, it was initially just a way for him to cross train for paddling, and slowly, as he began to notice the many benefits of yoga, both physically and mentally, the ancient practice became a major positive influence in his life. He decided to become a yoga teacher to share his enthusiasm for the practice.
Teaching Style: Duane emphasizes free breathing with awareness, functional strength using the entire body, and a healthy range of motion to enable balanced posture, all with the understanding that every human body moves differently. He also teaches with a light heart, believing that practice is a reward in itself.
3 things I would put in a time capsule: A hand written note saying, "Nothing can adequately represent the beauty of life."
Duane instructs the following:
Hatha Yoga Level 1: Yoga Fundamentals
Level: All levels → good for beginners
Temperature: Room Temperature
Description: Level 1 yoga is an instructional and confidence building class. All great things must rely on a sound foundation. This class focuses heavily on correct postural alignment and developing appropriate yogic breathing. Fundamental poses that are common to many classes such as Downward Facing Dog and Warrior Poses will be broken down for the students, and modifications will be given if needed. Building a strong yoga foundation is crucial in a student's success on the mat as their yoga journey blossoms. Level 1 yoga is a class for all students whether new or experienced. It's always good to reconnect to your beginnings.




Hatha Yoga Level 2: Flow and Let Go
Level: Advanced Beginner/Intermediate
Temperature: 90-95 degrees F
Description: This 75 minute Level 2 yoga practice builds upon the fundamentals learned in Level 1 to add an increased challenge to a yoga class. The solid knowledge base learned from Level 1 carry over to this class and Level 2 students are encouraged to let go of newcomer energy and flow confidently in this class. Instructors sequence the asanas in more ornate and creative fashions to keep students improving and feeling challenged. Some instructors may choose to teach this class in a Vinyasa format where the poses and transitions from pose to pose are linked with a breath cue. Depending on the teacher, this class can be taught at a faster pace than the Level 1 class. Additionally, a broader range of asanas and breathing techniques are taught to increase flexibility, strength, and concentration. This class is practiced in a warm room and is appropriate for advanced beginner/intermediate students.