Kylie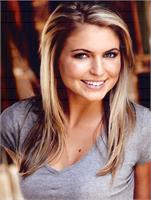 Bio: Kylie found yoga when she was studying journalism at U.C. Berkeley. She not only fell in love with the physical artistry of the practice, but with the mental freedom of a good savasana. Wanting to learn more behind yogic philosophy, she studied Buddhism and meditation at Berkeley while deepening her own practice. After graduating, she completed her 200 hour yoga teacher training in Huntington Beach and began teaching various styles of power yoga including sculpt and advanced vinyasa flow. Shortly after, she fell into with what she thought was her antithesis: restorative yoga. She used to say, "Who wants to sit there and stretch for an hour? If I have an hour, I'm going to burn calories." She realized that her attitude was the very reason she needed a calming, centering practice and discovered the magic of true stillness. Later, she combined her love for the ocean with her love for yoga by teaching paddle board yoga in Santa Barbara. Next, she took to the sky as an aerial yogi and completed her Aerial Teacher Training through both Trilogy Sanctuary and Spectra's School for Yoga. She felt aerial to be like medicine for her back pain associated with a spinal fusion surgery and loved feeling like a bird in the silk. When she's off the mat, you can find her writing, coming up with ideas and thinking about stories as a student in the Writing for the Screen and Television M.F.A. program at USC's School for Cinematic Arts. She compares writing to yoga. "They're really the same thing. In writing, we tell stories through words on paper. In yoga, we tell them through our bodies."
Teaching Style: Kylie sets an intention at the beginning of each class: "I want my students to leave feeling accomplished, centered, and free."
3 things that I would put in a time capsule: My journals, one of my favorite books, and a photo of my huge family!
Kylie instructs the following:
Level: Beginner/Intermediate
Temperature: 90 degrees F
Description: Boost your muscles and uplift your soul in a Yoga Lift class. This class unites the high energy of light weight lifting and the mindful alignment of yoga. Light to heavy weights are provided to each student to use during class to add challenge and help strengthen muscles. This is a great class to improve your fitness level and cardiovascular endurance. The spirit of the class will uplift, strengthen, detoxify, and encourage endorphin release. This class is practiced in a heated room, so please bring a towel, water, and wear moisture wicking clothes.

Yoga Lift 1 is appropriate for newer students who have little to no experience with this style of yoga. Students looking to add this class to their routine and are unsure of the class dynamics should take a few Yoga Lift 1 classes before jumping into Yoga Lift 2. The class tempo is not as intense and fast moving as Yoga Lift 2 because the teacher will take more time to explain how to use the weights during class.




*This class is not included in the monthly membership. Additional cost required to take this class.

Level: All levels

Temperature: Room Temperature
Description: Aerial Yoga is a unique experience of yoga asana practiced on the mat combined with asanas practiced in a suspended hammock. Using the aid of gravity, the hammock is an effective tool for realignment of the body as it acts like a hands on adjustment. The way in which the hammock guides the body into better alignment is greatly useful when translating the poses to the mat. The hammock is suspended about waist height off the ground and the instructor will guide students in and out of the hammock mindfully and safely. Aerial Yoga is intended to assist students to relax their mind and body, release tension, and rebuild proper alignment.

No jewelry, no zippers, wear clothing that protects armpits and knees.




First time students are required to take Intro to Aerial Yoga. First class is also FREE. Sign up 4 hours ahead and call Spectra 714-436-0576


Level: All levels
Temperature: Room Temperature
Description: A class to get acquainted with the aerial silk apparatus! Like a 'first date' with aerial yoga, students will be gradually taught how to use the silk hammock for expressing traditional yoga poses in unconventional new dimensions. Stretching techniques for shoulders, hips and hamstrings using the silk allows students to explore a deeper range of motion, connect to core stabilizing muscle groups. The aerial yoga teacher will teach students how to access inversions without any pressure on the head or neck while allowing decompression of the spine. Backbends such as half or full bow using full support of the silk are introduced. Experience Savasana in a completely new way, enveloped and safely supported by the silk hammock.

Aerial yoga is safe for most students who can do inversions (no history of glaucoma, high blood pressure, stroke). Expectant mama's are welcome to do aerial yoga with their doctor's permission. It is recommended to wear a top that covers your underarms and long pants or leggings for both men & women.