Jill C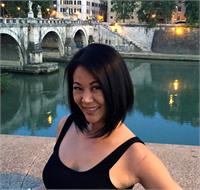 Bio: Jill's journey began at a very young age. She found inspiration through the art of ballet dancing during her childhood and adolescent years. She performed in many school functions, and special events and found that, through ballet, she was able to uncover the passion and confidence that resided within.
Jill discovered yoga in 2009. A growing interest in yoga began to develop and Jill realized she wanted to attain some type of daily exercise… yoga seemed to be the perfect fit! She knew it would make her physically strong; however, Jill had no idea how much of a positive impact it had towards her mental health. Yoga helped Jill develop strengths she never thought she had, both physically and mentally. Yoga restored balance in her life, illuminating her inner beauty, health, self discipline and helps her practice patience. The more balance that is cultivated within her mind, body and spirit through yoga directly impacts her external experience and leads to a more joyful, peaceful, balanced and satisfying life.
Jill completed her 200 hour Hot Power Fusion certification, through CorePower Yoga, in November 2011. She teaches many other styles as well: Hot Yoga, Vinyasa, Yoga Pilates and Restorative. Jill is passionate about living a balanced, healthy, abundant life and in turn, she hopes to reflect that on and off the mat.
Teaching Style: Jill strives to provide an encouraging, energetic, at times challenging, but fun environment for all students. Her students inspire her by seeing their growth, increased awareness and life transformations.
3 things I would put in a time capsule: A Kindle and an iPod with various types of books, magazines, music and special pictures of my family, friends and life events.
Find Me: FB @JillHamabata
Jill C instructs the following:
Level: All Levels
Temperature: 100 degrees F
Description: Hot Yoga Static Series is a class consisting of a set sequence of breathing exercises and asanas practiced in the same order each class. This sequence is designed to systematically open up the muscles, joints, and stimulate the internal organs. Each pose is held for an extended amount of time allowing students to correct their alignment and deepen into the pose with consistent practice. One of the main benefits from this style is the increased awareness and concentration developed from practicing yoga in a heated environment. Synergy is the key to creating community in this class. All of the students are encouraged to move together as one in this class under the direction of the teacher. Moving into, staying in the asana, and releasing out of poses at the same time will greatly promote the uniting energy of this particular class. The intense heat is also critical in speeding up the flexibility in muscles and joints. Additionally, the copious sweating is desired to open up pores in the skin and achieve detoxification from inside and out. Due to the high heat, hydration before class will help students succeed.



UPCOMING CLASSES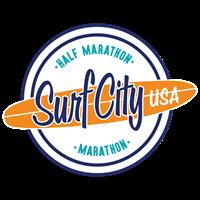 Spectra Run Club: Surf City Training

with

Kevin

Mullen
Next held on Sun, Dec 16, 2018 at 7:00 am - 8:00 am
This
enrollment
runs from Sun Nov 4, 2018 - Sun Jan 27, 2019
Learn More
Online registration is closed. Please contact us for details.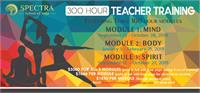 300 Hr: BODY Module
More About This Course
300 Hr Teacher Training: BODY

with

Melissa

Christensen
Next held on Sun, Jan 6, 2019 at 9:00 am - 6:00 pm
This
enrollment
runs from Sun Jan 6, 2019 - Sun Feb 24, 2019
300 Hr Teacher Training: BODY

with

Aileen

Pham
Next held on Thu, Jan 10, 2019 at 5:30 pm - 9:30 pm
This
enrollment
runs from Thu Jan 10, 2019 - Thu Feb 21, 2019
Yoga Lift Teacher Training
More About This Course
Yogalates Teacher Training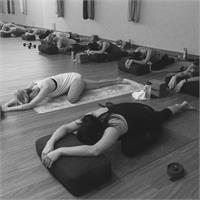 Yin Yoga Teacher Training
More About This Course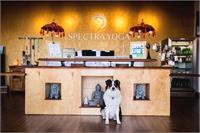 200 Hour Yoga Teacher Training
More About This Course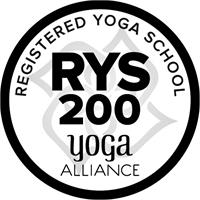 200 Hour Yoga Teacher Training

with

Aileen

Pham
Next held on Thu, Feb 28, 2019 at 6:30 pm - 9:30 pm
This
enrollment
runs from Thu Feb 28, 2019 - Thu May 23, 2019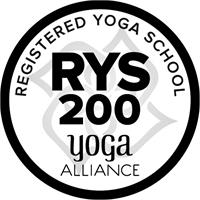 200 Hour Yoga Teacher Training

with

DJ

Arnold
Next held on Fri, Mar 1, 2019 at 5:30 pm - 9:30 pm
This
enrollment
runs from Fri Mar 1, 2019 - Fri May 24, 2019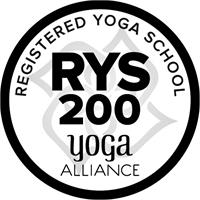 200 Hour Yoga Teacher Training

with

Melissa

Christensen
Next held on Sun, Mar 3, 2019 at 9:00 am - 5:00 pm
This
enrollment
runs from Sun Mar 3, 2019 - Sun May 19, 2019