Cheri R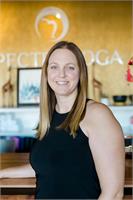 Bio: I fell in love with yoga after my very first class. I immediately brought my daughter and she also fell in love with yoga. I realized what a huge impact yoga had on our daily life and immediately wanted to share it with my students. I am currently a substitute teacher and have over 15 years of experience with children and families. I recently finished my 200 HR teacher training at Spectra School of Yoga and am looking forward to sharing my love of yoga with the kids in our community.
Teaching Style: Encouraging, fun, focused on breath, movement and incorporating mindfulness into daily life. I want my students to leave feeling strong and accomplished.
3 Things I would put in a time capsule: Pictures of my friends and family, chocolate, and my journal
Find me: Instagram @cherbeanyoga
Cheri R instructs the following:
Level: All levels
Temperature: Room Temperature
Description: Children deserve to have a spiritual and loving community like the adults. Kids get to know themselves through discussions and self awareness techniques such as yoga. In this class just for kids, interactive and fun games are used to teach yoga postures and breathing exercises. As a result, children channel their surplus energy to strengthen their bodies and minds. Meditation is also introduced to help them learn how to relax, focus, and develop self awareness. Children leave feeling accomplished and happy. Kids Yoga is a special class designed for children between the ages of 5-11.