Cheri R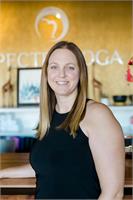 Bio: I fell in love with yoga after my very first class. I immediately brought my daughter and she also fell in love with yoga. I realized what a huge impact yoga had on our daily life and immediately wanted to share it with my students. I am currently a substitute teacher and have over 15 years of experience with children and families. I recently finished my 200 HR teacher training at Spectra School of Yoga and am looking forward to sharing my love of yoga with the kids in our community.
Teaching Style: Encouraging, fun, focused on breath, movement and incorporating mindfulness into daily life. I want my students to leave feeling strong and accomplished.
3 Things I would put in a time capsule: Pictures of my friends and family, chocolate, and my journal
Find me: Instagram @cherbeanyoga
Cheri R instructs the following:
Some amazing Spectra Yoga Mother's are combining their forces to create our first ever Childcare Co-Op offering babysitting for the 9:00 am and 9:15 am classes on Monday through Friday. Childcare begins on Monday June 27th for a low fee per child.

Childcare Guidelines:

Ages of kids: 1-12 years old
Arrive 10 minutes early to register and pay for each child
If your child is in diapers, make sure he/she has been changed before drop off, as there will not be diaper changing during childcare hours
Please feed your child beforehand as there are no snacks allowed during the childcare hours
Communicate any special needs your child has to the parent in charge for the day
Please do not bring sick children to the studio
Water bottles are OK

Cost: $5/child/visit or $40/child/month (unlimited childcare)

*No Childcare offered on Monday July 4th.




Level: Beginninger

Temperature: Room Temperature

Description: Karma can be described as the sum of one's actions in order to determine his/hers destiny. In this life, it is important to give whenever possible, so these karma classes are free to the public so the teacher is afforded an opportunity to practice teaching without pressure. The teachers are usually new Spectra School of Yoga TT graduates, but can also be current teachers practicing a new style. Appropriate for all levels.




Level: All levels
Temperature: Room Temperature
Description: Children deserve to have a spiritual and loving community like the adults. Kids get to know themselves through discussions and self awareness techniques such as yoga. In this class just for kids, interactive and fun games are used to teach yoga postures and breathing exercises. As a result, children channel their surplus energy to strengthen their bodies and minds. Meditation is also introduced to help them learn how to relax, focus, and develop self awareness. Children leave feeling accomplished and happy. Kids Yoga is a special class designed for children between the ages of 5-11.