Greg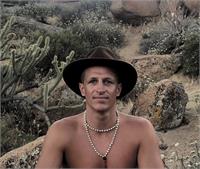 Bio: I was raised in beautiful Lake Tahoe, CA where I grew up as a highly competitive skier. My passion for skiing led me around the world where I got to enjoy a multitude of different cultures and adventures. I love being outside doing anything the keeps me active and moving. I found my daily yoga practice after various sports
related injuries, including a broken back, brought me to crippling pain. I sought yoga for the physical benefits but very quickly fell in love with the practice for the mental and spiritual aspects that yoga encompasses. I hope to share my passion and enthusiasm for yoga with all who are seeking.
Teaching Style: My teaching style is rooted in Bhakti devotional flow with a fun modern twist to it. I love to link breathe to movement and get lost in the flow. I teach vinyasa/hatha and
yoga lift.
Three things I would time capsule: My pendulum, sweatpants, the Tao Te Ching
Greg instructs the following:
Hatha Yoga Level 2: Flow and Let Go
Level: Advanced Beginner/Intermediate
Temperature: 95 degrees F
Description: Level 2 yoga builds upon the fundamentals learned in Level 1 to add an increased challenge to a yoga class. The solid knowledge base learned from Level 1 carry over to this class and Level 2 students are encouraged to let go of newcomer energy and flow confidently in this class. Instructors sequence the asanas in more ornate and creative fashions to keep students improving and feeling challenged. Some instructors may choose to teach this class in a Vinyasa format where the poses and transitions from pose to pose are linked with a breath cue. Depending on the teacher, this class can be taught at a faster pace than the Level 1 class. Additionally, a broader range of asanas and breathing techniques are taught to increase flexibility, strength, and concentration. This class is practiced in a warm room and is appropriate for advanced beginner/intermediate students.




Hatha/Vinyasa Yoga Level 1/2: Yoga Fundamentals+
Level: All levels → good for beginners
Temperature: 85-90 degrees F
Description: Level 1.5 yoga is an instructional and confidence building class. All great things must rely on a sound foundation. This class focuses heavily on correct postural alignment and developing appropriate yogic breathing. Fundamental poses that are common to many classes such as Downward Facing Dog and Warrior Poses will be broken down for the students, and modifications will be given if needed. Building a strong yoga foundation is crucial in a student's success on the mat as their yoga journey blossoms. Level 1.5 yoga is a class for beginners and those working towards building upon a yoga foundation. Options will be given to students to advance their practice working towards Level 2 poses.