Garrett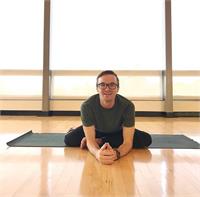 Bio: Garrett Neill, DC, RYT-200, FRCms, or Dr. Yogi Gare, is a Chiropractic Physician who loves to explore physical concepts of Mobility, Stability, and Balance in the Yoga postures featured in his class. Dr. Garrett came to yoga from a shoulder injury from competitive swimming and has been a Yogi of over 12 years. He has been a Yoga Teacher for almost 4 of those years. His extensive knowledge of anatomy and biomechanics leads to an amazing full mind and body experience in his yoga classes. Garrett also teaches anatomy to yoga teachers, has written a book about Yoga injuries, and publishes articles regularly for two online magazines: Shut Up And Yoga & YogaUOnline.
Teaching Style: The most common thing I hear about my teaching style is that it is a lot of fun, quite challenging, and very different. I feel like this is because I like to weave a lot of interdisciplinary movement into my Yoga classes (like exercises from kinesiology, neuroscience, martial arts, tai chi, etc). I have a more modern approach to Yoga Asana in that I modify and customize traditional poses to create "Hybrid Poses." My goal with each class is to guide my students to their highest potential using the safest and most effective methods. I also tend to talk a lot about anatomy and function of the human body. I feel like this perspective gives advanced yogis a chance to feel something new in traditional postures and creates new opportunities to move their bodies, and with beginners my intention is often to help them find their own alignment and success in their practice.
3 things that I would put in a time capsule: The music I'm currently listening to, a photo of my family, a journal of my thoughts and ideas.
Find Me: Facebook: Dr. Yogi Gare; Instagram: Dr_Yogi.Gare; Website: mindfulmvmnt.org
Garrett instructs the following:
Hatha/Vinyasa Yoga Level 1/2: Yoga Fundamentals+
Level: All levels → good for beginners
Temperature: 85-90 degrees F
Description: Level 1.5 yoga is an instructional and confidence building class. All great things must rely on a sound foundation. This class focuses heavily on correct postural alignment and developing appropriate yogic breathing. Fundamental poses that are common to many classes such as Downward Facing Dog and Warrior Poses will be broken down for the students, and modifications will be given if needed. Building a strong yoga foundation is crucial in a student's success on the mat as their yoga journey blossoms. Level 1.5 yoga is a class for beginners and those working towards building upon a yoga foundation. Options will be given to students to advance their practice working towards Level 2 poses.




Hatha Yoga Level 2: Flow and Let Go
Level: Advanced Beginner/Intermediate
Temperature: 95 degrees F
Description: Level 2 yoga builds upon the fundamentals learned in Level 1 to add an increased challenge to a yoga class. The solid knowledge base learned from Level 1 carry over to this class and Level 2 students are encouraged to let go of newcomer energy and flow confidently in this class. Instructors sequence the asanas in more ornate and creative fashions to keep students improving and feeling challenged. Some instructors may choose to teach this class in a Vinyasa format where the poses and transitions from pose to pose are linked with a breath cue. Depending on the teacher, this class can be taught at a faster pace than the Level 1 class. Additionally, a broader range of asanas and breathing techniques are taught to increase flexibility, strength, and concentration. This class is practiced in a warm room and is appropriate for advanced beginner/intermediate students.