Aileen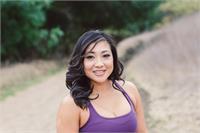 Bio: In the early summer of 2003, Aileen began her Hot Yoga practice after strong recommendations by her Aunt Ann. Initially her yoga practice was intended as a solution for the infamous "Freshman 10" she gained at the University of Southern California. Yet soon thereafter through an intense and dedicated practice, the fat shed and Aileen discovered that yoga's benefits offered much more than losing weight. Since childhood, Aileen suffered from acute eczema, asthma, and allergies. In fact, the allergies were quite severe and she resorted to allergen immunotherapy. Enduring the allergy shot regimen for six years, she finally stopped after developing an on going yoga practice. She soon noticed that her allergy, asthma, and eczema symptoms were beginning to slowly disappear a year later. Additionally, as an athlete with a background in tennis, swimming, and track & field, Aileen discovered a great alternative to intensive sports in Hot Yoga. Aileen soon found that Hot Yoga not only increased her flexibility, but also relieved stress, increased energy, improved balance, and developed acute body awareness and concentration. Yoga proved to be extremely complementary to her workouts outside the yoga studio.Aileen completed two 200 hour yoga teacher training with Yoga Works in 2007 and with Corepower Yoga in 2008. In 2010, she completed her 500 hour yoga therapy training. She also studied to become a personal trainer in 2007 and has taken multiple workshops to continue her education especially in the area of Acro Yoga, Kids Yoga, Pre-natal, and Aerial. Coupling her knowledge of different types of yoga and personal fitness helps her to become a better yoga instructor and therapist. Her love for the practice has inspired her to teach and help others live a healthier and balanced life.
Teaching Style: I teach with a lot of enthusiasm and energy as I love to motivate and support my students. No matter what style of class I am teaching, I want my students to let go and rely that I will guide them safely through an encouraging and fun class. My goal is to uplift my students' minds and bodies to face new challenges and conquer old ones all the while staying present to enjoy each moment of class.
3 Things I would put in a time capsule: Hanson's 1997 debut album "Middle of Nowhere," photo album of vacations with friends and family, and one of my paintings
Find Me: Instagram @aileenpham and @spectrayoga
Aileen instructs the following:
Level: Intermediate
Temperature: 100 degrees F
Description: Hot Yoga 2 is a pumped up version of Hot Yoga 1. Drawing from the asanas and uniting philosophy present in the Hot Yoga 1 class, Hot Yoga 2 is sequenced in a more flowing and creative manner to further challenge the students physically and mentally. The major differences between the Hot 1 and 2 is that the asanas are held longer in Hot 1 and the class moves at a quicker pace in the Hot 2. There are a few added sections in this class to increase core strength and upper body endurance. Hot Yoga 2 is a fun, vitalizing, and grounding class designed for intermediate students.




Level:

Advanced Beginner/Intermediate

Temperature:

95 degrees F

Description:

Two worlds collide in one class. Yogalates is a great combination of yoga and pilates to achieve a tremendous amount of core strengthening. Students will experience yoga's incredible ability to warm up the body and enhance flexibility, which ultimately supports the mental and physical alignment required in all of the mat pilates exercises. These two disciplines go hand in hand as the benefits of each art feed into the other. The importance of yoga alignment combined with pilates' core strengthening exercises makes for a challenging yet worthwhile experience. This class is appropriate for intermediate level students.




Level: Intermediate/Advanced
Temperature: 95 degrees F
Description: Boost your muscles and uplift your soul in a Yoga Lift class. This class unites the high energy of light weight lifting and the mindful alignment of yoga. Light to heavy weights are provided to each student to use during class to add challenge and help strengthen muscles. This is a great class to improve your fitness level and cardiovascular endurance. The spirit of the class will uplift, strengthen, detoxify, and encourage endorphin release. This class is practiced in a hot room, so please bring a towel, water, and wear moisture wicking clothes. Yoga Lift is appropriate for intermediate level students.




Level: All levels
Temperature: Room Temperature
Description: Highly trained instructors will teach to each students level and ability in class, which makes this full body fitness class a great experience for any level student. This class will use a multitude of equipment such as dumbbells, resistance bands, slam balls, and jump ropes, but most importantly the TRX. Originating from the Navy Seals, TRX Suspension Training is the latest and greatest in strength and endurance training. Students will use their body weight combined with the suspension straps to utilize every muscle in their body.

The main focus in this class is centered on core stabilization to gain strength, definition, better posture, and endurance to name a few. Each day you will get a 45 minute full body workout, with a higher emphasis on one body part depending on which day of the week it is. You can find the Full Body Fitness schedule in the monthly newsletter.

This class is practiced in a cool room and outside. It will require a yoga mat, tennis shoes, comfortable athletic wear, and water.




Level: All Levels
Temperature: 100 degrees F
Description: Hot Yoga 1 is a class consisting of a set sequence of breathing exercises and asanas practiced in the same order each class. This sequence is designed to systematically open up the muscles, joints, and stimulate the internal organs. Each pose is held for an extended amount of time allowing students to correct their alignment and deepen into the pose with consistent practice. One of the main benefits from this style is the increased awareness and concentration developed from practicing yoga in a heated environment. Synergy is the key to creating community in this class. All of the students are encouraged to move together as one in this class under the direction of the teacher. Moving into, staying in the asana, and releasing out of poses at the same time will greatly promote the uniting energy of this particular class. The intense heat is also critical in speeding up the flexibility in muscles and joints. Additionally, the copious sweating is desired to open up pores in the skin and achieve detoxification from inside and out. Due to the high heat, hydration before class will help students succeed.




First time students are required to take Intro to Aerial Yoga. First class is also FREE. Sign up 4 hours ahead and call Spectra 714-436-0576


Level: All levels
Temperature: Room Temperature
Description: A class to get acquainted with the aerial silk apparatus! Like a 'first date' with aerial yoga, students will be gradually taught how to use the silk hammock for expressing traditional yoga poses in unconventional new dimensions. Stretching techniques for shoulders, hips and hamstrings using the silk allows students to explore a deeper range of motion, connect to core stabilizing muscle groups. The aerial yoga teacher will teach students how to access inversions without any pressure on the head or neck while allowing decompression of the spine. Backbends such as half or full bow using full support of the silk are introduced. Experience Savasana in a completely new way, enveloped and safely supported by the silk hammock.

Aerial yoga is safe for most students who can do inversions (no history of glaucoma, high blood pressure, stroke). Expectant mama's are welcome to do aerial yoga with their doctor's permission. It is recommended to wear a top that covers your underarms and long pants or leggings for both men & women.